Newsletter: Creating Change
Dear Friends,
Best wishes for the New Year and a strong, safe and successful 2021. I am excited to begin the new year as your representative in our State Senate. We have so many important issues before us: gaining control of the pandemic in California; safe in-person resumption of school, work and our everyday lives; and tackling the challenges of our economy, climate change, housing, transportation and social justice – as well as the equity concerns that underlie these issues.
I'm a 25-year resident of Menlo Park and my background is in public policy innovation and social activism. I'm focused on bringing the enthusiasm, creativity and enterprise of my solutions-oriented experience to my work for you in the Capitol and in our Senate district. I like moving fast to fix and create things. I introduced two bills on clean energy on my first day in office. I've also been working with my staff on further legislation and on efforts to bring us together even though, for the time being, we must be apart.
Here are the highlights:
Events – My first event will be a virtual town hall on COVID-19 and what you need to know about the latest medical developments. Join me and health experts from our district from 5 to 6 p.m. on Thursday, January 21. RSVP and submit questions by clicking here. I'll send you more details on the event soon.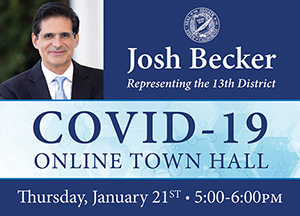 My Legislation – I introduced Senate Bills 67 and 68 on December 7, the day I was sworn into office.
SB 67 calls for a 24/7 Clean Energy Standard to accelerate California's transition to 100% clean energy. SB 67 will require growing amounts of our energy to come from renewable or zero-carbon sources around the clock – not only when the sun shines and the wind blows – so that California achieves 100% clean energy faster. This is an important step toward achieving a 100% carbon-neutral economy and will spur investment and create jobs in building new clean energy resources.
SB 68 builds on California's 1-million-solar-roofs program by making changes that will help our state achieve 1 million electric homes. The bill will lift the barriers that make it hard to update electrical service panels and to accommodate additional electrical appliances within existing service panels. In homes, for example, SB 68 would make it easier to switch to electric models when water heaters or furnaces need replacing.
Read more about my bills at these links in the state's legislative database: SB 67 and 68.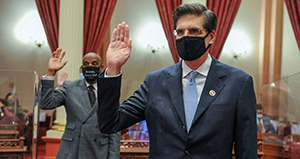 Committee Assignments – I'm honored that Senate President pro Tempore Toni Atkins named me to six committees that allow me to do important work for our local communities as well as for our state. Here are my assignments:
The Joint Legislative Committee on Climate Change Policies, where I'll serve as vice chair.
The Senate Energy, Utilities and Communications Committee.
The Senate Transportation Committee.
The Senate Business, Professions and Economic Development Committee.
The Senate Governmental Organization Committee.
The Joint Legislative Audit Committee.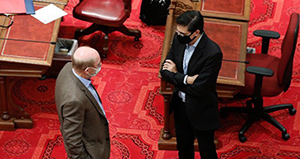 Getting California Back to School Safely – Right before the New Year, Governor Newsom announced his plan for a safe return to in-person learning in California schools, starting with transitional kindergartners to second graders, and prioritizing teachers for early access to the COVID vaccine. Like many parents in our district, I feel this very personally. I'm also proud to have led, with East Bay Assemblywoman Buffy Wicks, the 21 legislators who wrote to our governor to urge that our teachers and early childhood education and care workers be protected by granting them priority access to the vaccine along with other essential workers. I look forward to working on the back-to-school proposal with my colleagues in the Legislature.
I'll be updating you regularly on events like my COVID-19 town hall (reminder: RSVP and send your questions to me here) and will tell you about my plans and what I've accomplished for you in further editions of Creating Change.
I look forward to getting to know you better and your getting to know me better. BTW, Saturday was a movie night for my family. We really liked Pixar's "Soul," which we watched with dessert. I got to pick. I love pie, especially peach or blueberry, and my favorite ice cream is rocky road!
What's your favorite ice cream? You can let me know here and use the link to share other ideas, like your opinions on legislation and ideas for bills. Need help navigating state agencies and programs? My district office provides excellent constituent services. Call 650-212-3313 or connect with us by clicking here. For more information about my work in the Legislature and our district resources, visit my website, sd13.senate.ca.gov. I also encourage you to follow me on Twitter @SenJoshBecker and I invite you to join me in creating change.
Sincerely,
Josh Becker Senator, 13th District