COVID-19 Online Town Hall
-
Dear Friends,
We have much to look forward to in this new year after an incredibly challenging 2020. But many of those challenges must still be addressed, most notably the ongoing COVID‑19 pandemic emergency.
I hope you will join me for a webinar discussing the most recent news related to the crisis. We will be addressing questions related to the new variants of the virus that have been detected in California, discussing vaccine distribution and answering your questions.
I will be joined by Dr. Anand Chabra, San Mateo County Health's Section Chief for COVID-19 Mass Vaccination, and Dr. Mark Adams, El Camino Health's Chief Medical Officer, to discuss recent health developments related to the COVID-19 pandemic and to answer your questions. The virtual town hall will be held on:
Thursday, January 21, 2021
5:00 pm to 6:00 pm
To RSVP or submit questions, please click HERE. We will do our best to answer as many questions as possible during the event. We will follow up with you to respond to any questions that we are not able to answer during the event.
I will send the link to participate in the coming days and look forward to your addressing your concerns and questions.
Sincerely,
Josh Becker
Senator, 13th District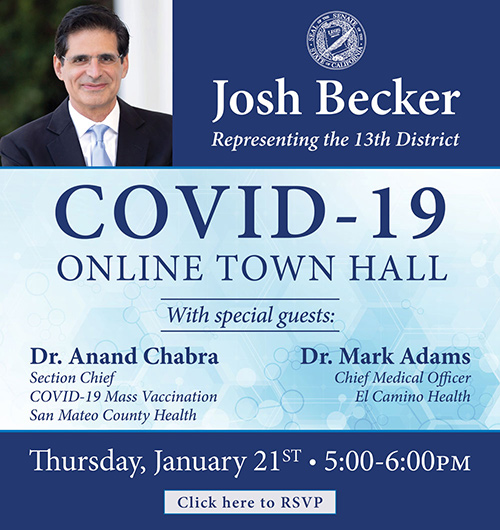 8.5.6