Senator Josh Becker's April '23 Newsletter
Senator Josh Becker's April '23 Newsletter
Good morning and welcome to my April newsletter! Thanks to all who responded to my recent storm newsletter.
Remember, if you suffered any damages as a result of the recent power outages, you may be entitled to compensation from PG&E. To find out more, fill out a PG&E claim form as soon as possible.
In the Capitol
Legislative Update
The legislative session is in full swing as the Senate's policy committees consider nearly 900 bills ahead of the April 28 deadline to hear all bills with a fiscal impact. All of my bills continue to advance through the legislative process including:
SB 49 to deploy solar over parking lots and other unused land;
SB 362 to provide consumers with a one-stop-shop website to Delete their personal data from predatory data brokers; and
SB 634 to deploy "Opportunity Housing" on surplus lands to quickly get our unhoused neighbors into shelter and off the street.
I also continue to advance many other pieces of legislation to fight climate change, advance economic mobility, and create a more fair justice system. You can check them all out on the Legislature's bill information website.
Yom HaShoah
I was honored to lead the California Legislative Jewish Caucus' observation of Yom HaShoah, or Holocaust Remembrance Day, on the Senate Floor. This year marked the first time since 2019 that survivors of the Holocaust could fully attend the Capitol events in person to be honored.

As part of the ceremony, I welcomed Charles Stevens, a Holocaust survivor from our district, to share his story of survival. Honorees were selected because of their commitment to Tikkun Olam, or social justice, and their courage and resilience.

It was moving to have the survivors with us and hear their stories of not just surviving, but thriving even after experiencing one of mankind's greatest evils. Remembering the Holocaust is a sacred duty to ensure a similar atrocity never happens again.
Pictured from left to right: Honoree Charles Stevens, his wife Barabara, daughter Lorraine and son-in-law Joel.

Ought to Be A Law update
Last month I was thrilled to announce Jill Ferguson as the winner of my inaugural 'Ought to Be A Law' contest. Jill Ferguson submitted a bill idea to create a single layered online application for California's energy incentive programs under the California Energy Commission (CEC). The bill idea will be carried in Senate Bill 755, called 'California's Layered Energy Application for Residents (CLEAR).'
Jill is a current PhD student in environmental and resources at the Stanford Emmett Interdisciplinary Program in the Stanford Doerr School of Sustainability, as well as a Shultz Energy Fellow at the California Public Utilities Commission. The winner was selected from around 150 entrants from the various areas in the district.

Around the Peninsula
Woman of the Year: Dr. Belinda Hernandez Arriaga
Assemblymember Berman and I were proud to name Dr. Belinda Hernandez Arriaga our joint Woman of the Year for 2023. Dr. Arriaga is a formidable force on the Coastside, supporting farmworkers and their families through her nonprofit Ayudando Latinos A Soñar (ALAS). She has been a rock in the aftermath of the Half Moon Bay shooting in January, comforting survivors and families of the victims.
I am in awe of all that ALAS accomplishes with her leadership: summer camps for farmworkers' kids, housing, beautiful mental health facilities, food & support during the floods & power outages, & everyday advocacy on behalf of farmworkers. We applaud her work and recognize her for her leadership during good times and trying times.
Caltrans & aftermath of the storms
This winter's storms have taken a toll on infrastructure throughout our district–from power lines and flooded streets to landslides and potholes–crews are hard at work to restore/revive/replace the backbones of our streets, homes, schools and businesses.  I continue to push CalTrans and there is still much work to be done, but I am pleased to report progress on some of our hardest hit areas, beginning with the stretch of CA-84 (El Camino Real) between Palo Alto and Mountain View. On April 5 Caltrans began roadway repairs to fill potholes along El Camino Real between CA-237 and Castro Street. On April 10, work began on El Camino Real between El Monte Avenue and Stanford, and between El Monte Avenue to Castro Street (northbound and southbound).  A more extensive repaving project will take place in the fall.
Other current or planned major repairs on state roadways in Senate District 13 include State Route 84 (Woodside Road) at Post Mile 17.9 due to a landslide on March 9  that resulted in approximately 250 feet of roadway failing. The roadway is currently closed in both directions while crews clear trees and access the site to determine stability and strength of the hillside in order to perform repairs and reconstruction.   A project fact sheet can be found here:Highway 84 Woodside, CA Emergency Storm Damage Repair Fact Sheet | Caltrans
The project web page is available here: Highway 84 Emergency Storm Damage Repair | Caltrans.
CalKids event
I was pleased to host an informative virtual event with the Scholarshare Investment board on March 29 highlighting CalKIDS, a new program to help parents save for college. Noah Lightman, Program Manager from CalKIDS, told us about the different tools California parents and guardians have to create funds for higher education costs.
More than 90,000 kids in Santa Clara County and 30,000 kids in San Mateo County have up to $500 waiting for them in CalKIDS–but they need to sign up!
You can learn more about CalKids here and watch a video of the event here.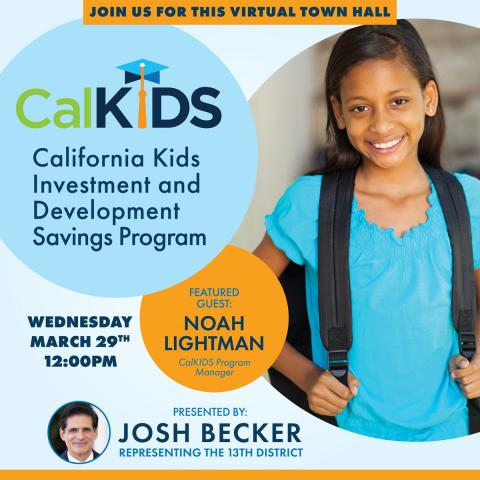 Burlingame Women's Club
I had a great time at the Burlingame Women's Club last month, catching up with old friends and getting a chance to talk about climate issues, housing, education and a host of other topics. Thank you so much for the invitation and for making me feel so welcome!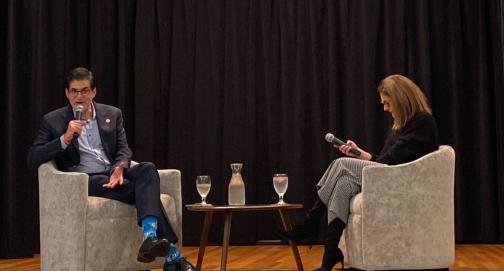 Having a spirited discussion with Burlingame Vice-Mayor Donna Colson.
Tax Filing Deadlines Extended!
Normally, this would be the time of year when we have to start thinking about filing our annual tax returns, but because the December and January storms led to a disaster being declared in 44 of California's 58 counties (including San Mateo and Santa Clara), the deadline has been extended for most filers in those affected counties.
The deadline to file for most Americans was Tuesday, April 18 because the traditional April 15 deadline fell on a Saturday, and Monday, April 17, was recognized as Emancipation Day in Washington, D.C.
However, because of the terrible storms we endured at the beginning of this year, the deadlines to file both your California state income tax return and your federal income tax return have been extended to October 16.
If you or someone you know needs help preparing their taxes, the Volunteer Income Tax Assistance (VITA) and Tax Counseling for the Elderly (TCE) programs offer free help for taxpayers who qualify.
Also, if you have children, make sure you check to see if you qualify for the California Earned Income Tax Credit (CalEITC), which is designed to help working people who earn less than $30,000 a year. You can find out if you qualify by using CalEITC4Me's online calculator.
 

Re-Enrolling In Medi-Cal Coverage
An estimated 3 million Californians are in danger of losing their Medi-Cal coverage if they don't re-enroll soon.
When the COVID-19 pandemic hit in 2020, the federal government added dozens of protections and increased benefits in Medicaid programs across the nation (in California, we call Medicaid "Medi-Cal") and eliminated the annual eligibility reviews for people.
The federal COVID-19 emergency will end in May, meaning everyone in the Medi-Cal program will need to pass an eligibility review. You should get a renewal form in the mail, so if you do, fill it out and return it right away to keep yourself and your family covered.
However, if you don't get a letter – or you don't want to wait – visit KeepMediCalCoverage.org to re-enroll as soon as possible. If you are no longer eligible, you may be transferred to Covered California, the Affordable Care Act program that started offering insurance in 2014 and is designed to provide subsidies for low- and middle-income people.
Gun Violence Town Hall
In the aftermath of the numerous gun tragedies that have occurred nationwide (Nashville and Louisville) and in California (Half Moon Bay and Monterey Park), I wanted to have a serious discussion about gun violence. I reached out to Assemblymember Marc Berman and we held a joint town hall on gun violence with gun prevention researchers and activists last week. You can watch a recording of the town hall here.

Youth & Young Adult Mental Health
Are you concerned about your youth and/or young adult? Struggling to communicate? Looking for better ways to support them through adolescence in this rapidly changing and complex world? Join El Camino Health and partners for The Parenting CURVE Collaborative, a free virtual event on Tuesday, May 9 featuring presentations from experts on mental health topics related to parenting youth and young adults.
Around the District
We're looking for a new member of Team Becker's district office! Do you have an interest in public service and working on my team serving the 1 million residents of Senate District 13? I'm hiring a district scheduler & district representative. No political experience necessary! Just a willingness to serve and help execute my vision and priorities. Learn more here: https://bit.ly/BeckerDistrictRep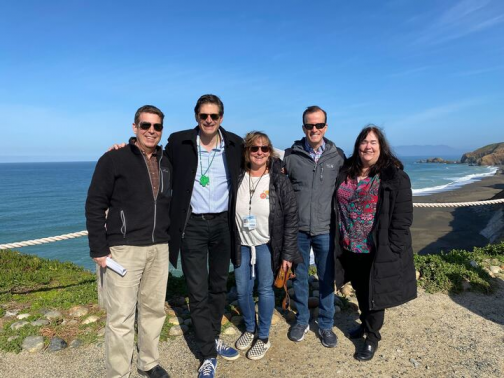 On Saint Patrick's Day I took a tour with Assemblymember Berman and Pacifica's community leaders to learn more about how sea level rise and coastal erosion is affecting their town. Pictured from left: City Manager Kevin Woodhouse, Senator Becker, Councilmember Mary Bier, Asm. Berman and Councilmember Sue Vauterlaus.

Welcome spring! I was excited to celebrate Holi, a traditional Hindu Festival of Colors, in Foster City. Pictured from left: Foster City Councilmember Stacy Jimenez, her husband Thaddeus Jimenez, district director Nicole Fernandez and Senator Becker.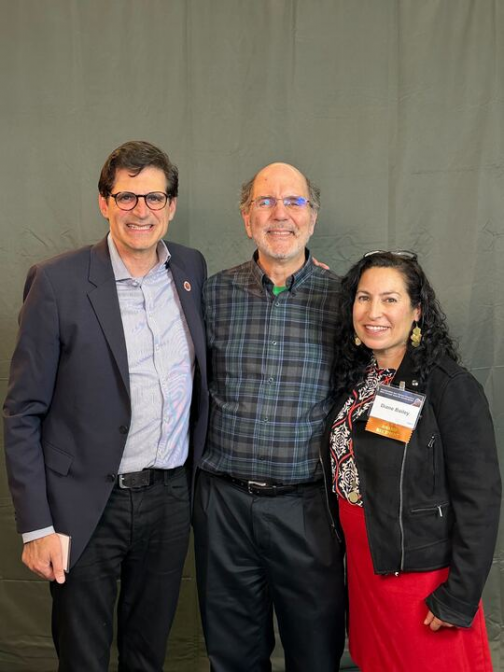 Thrilled to attend the Sustainable San Mateo County Awards, celebrating everything clean and green on the Peninsula. Pictured from left: Senator Becker, Mitch Slomiak and Diane Bailey of MenloSpark.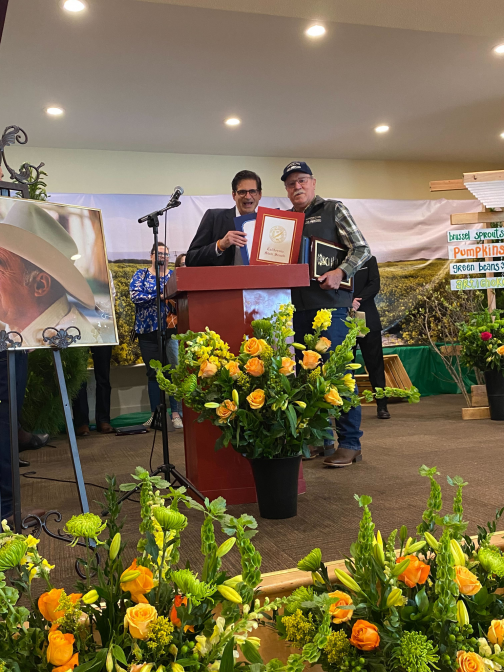 I attended my first Mel Mello Farm Day Luncheon in Half Moon Bay, which celebrates San Mateo County agriculture. Thrilled to hand out some awards to deserving folks who support our farms and farmworkers.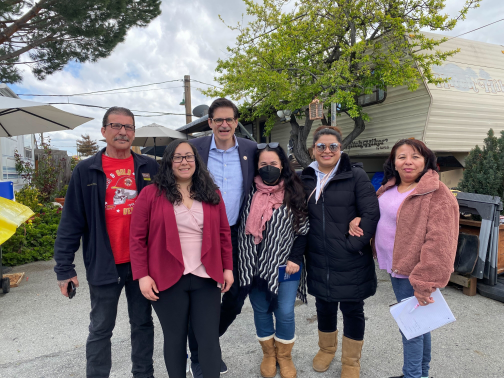 Our recent storms caused a lot of damage around the district, but the Belmont Mobile Home Park has seen a significant amount of damage in this storm and previous ones. I took a tour of the park and discussed possible solutions with San Mateo County Supervisor Noelia Corzo, the San Mateo County Office of Community Affairs, and residents (pictured here).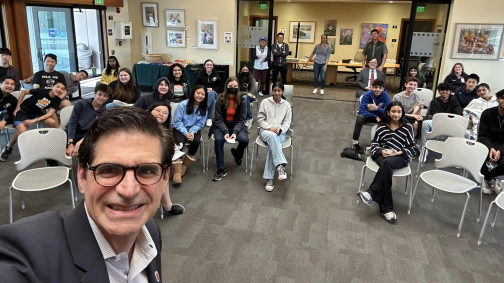 I appreciated the opportunity to speak to the Los Altos Hills Youth Commission about my journey in public service and politics. The kids are alright!

How To Reach Me
Whenever you're having a problem with a state agency, need information about state programs or want to voice your opinion about bills and issues pending before the Legislature, please don't hesitate to contact me. You can reach me at (650) 212-3313 or senator.becker@senate.ca.gov and you can always check out what I'm up to on Twitter at @SenJoshBecker and on Facebook at fb.me/Sen.Josh.Becker.
Sincerely,
Josh Becker
Senator, 13th District