Getting to Zero with Offshore Wind: Lessons California Can Learn from Portugal
On my way to COP26, I took a pit stop in Portugal to meet with individuals involved in the expansion of the country's offshore wind plants, which deploy floating offshore wind turbines that California could be using to produce energy. The West Coast has a steep ocean ramp that previously prevented California and other Western states from installing fixed platform offshore wind turbines  that are attached to the ocean floor and used on the East Coast.
California can learn from Portugal, which has admirably expanded their floating offshore procurement.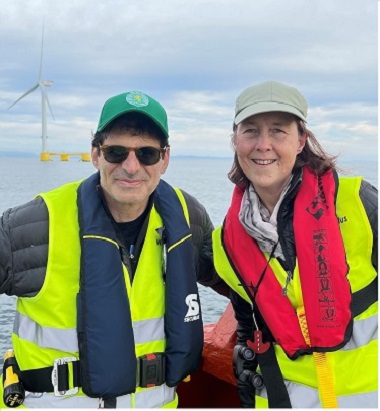 Portugal, on the west coast of the Iberian Peninsula, aims to become the first country with significant floating wind farm capacity. Their government is developing eight offshore wind projects. One, the WindFloat Atlantic, has operated since July 2020, producing 25 MW. The country's current plans aim to increase offshore wind energy to produce 300 MW by 2030.
Inspired by the growth of offshore wind in Portugal, I want to reflect upon offshore wind in California — where we are, where we're going, and how we can get there quicker.
Why build offshore wind for California?
Offshore wind is a critical component of Senate Bill 100's renewable energy targets, and the recent Joint Agency Report projects  offshore wind will increase by at least 10 GW through 2045. While the technology is in early stages of deployment, offshore wind provides an extra layer of resource flexibility and reliability, as we transition away from the traditional concept of "baseload" resources — resources such as gas and coal that constantly produce 24/7. With the proper increase of transmission infrastructure and proper planning, offshore wind perfectly pairs as a renewable resource in California, given that 68.5 percent of the population lives near a coastal area.
If California takes advantage of the recently passed federal offshore wind investment tax credit, ratepayers would save up to $7.8 billion over the lifespan of qualifying projects initiated by 2025 and serviced by 2035.
Other benefits of offshore wind are the industry's economic development and job creation. It's estimated that procuring 18 GW of offshore energy by 2045 would create up to 17,500 jobs in the direct and downstream industries.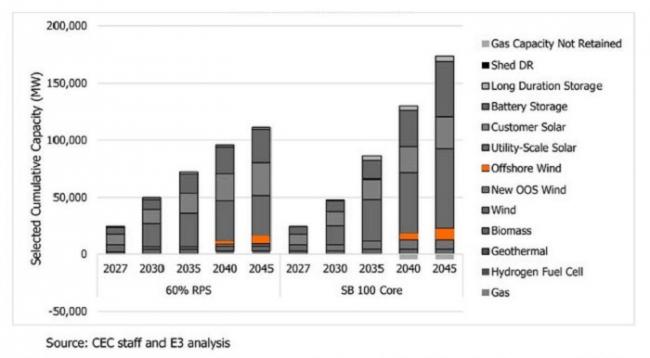 Offshore wind in California: Where we're at and where we're going
Offshore wind is critical because of its timing during certain parts of the energy demand load, providing necessary grid reliability. However, lack of focused pro-active governmental planning and procedural bottlenecks are preventing the quicker development of offshore wind.
The vast potential of offshore wind along the state's shoreline remains unrealized for numerous reasons. California's coastline has 112 GW, or 392 TWh/year, of offshore wind potential, which is 1.5 times the total yearly energy consumption in the state. Of course not all of this can be realized due to other environmental protections, legal constraints, and limitations from the Department of Defense and other federal agencies. However, even after taking those constraints into account, California is still underperforming. No offshore wind has been deployed and just two locations were approved this year for development.
California Energy Commission Chair David Hochschild explains the role of offshore wind in renewable generation best: Offshore wind production complements solar to create a "yin-yang" energy profile, which tracks our states' typical daily energy use loads [17:40]. In other words, offshore wind is up in mornings, afternoons and evenings, while inversely solar rises during the day and ramps down in the evenings allowing us to more easily meet our daily energy-use trends.
Some steps have already been made to progress and quicken the development of offshore wind. The joint Bureau of Ocean Energy Management-California Intergovernmental Renewable Energy Task Force, created in 2016, is in the process of streamlining approvals between involved agencies and improving communication with stakeholders and communities.
As a result, two offshore wind farms are in the works. Local leaders in Northern California, in partnership with the Biden administration, want to transform the port in Humboldt Bay and lure in offshore wind development to harness the area's unmatched energy potential and generate 1.6 gigawatts of power. At Morro Bay, former location of the Morro Bay Power Plant, developers have proposed constructing 1,000 MW of offshore wind capacity. The waters offshore from Diablo Canyon, home to the Diablo Nuclear Power Plant, have similarly been eyed by the Biden administration and in offshore wind reports as a potential location for an offshore wind farm due to existing infrastructure, but aren't currently in the mix as a site. 
Recent legislation will also hopefully create a better longer-range plan for approving more offshore wind, quicker. AB 525 (Chiu), passed earlier this year, requires the CEC and other agencies to outline plans for offshore wind development goals for 2030 and 2045, identify ocean spaces for development, and to formulate strategic plan for maximizing offshore wind potential in federal waters — all in partnership with already engaged stakeholders and traditionally excluded groups, such as environmental justice organizations, labor unions, and Indigenous and Native American groups. I anticipate the findings and recommendations from this report and look forward to incorporating the information and plans into our legislative vision on Getting to Zero.
Finally, the development of transmission lines for the transition to renewables is important for grid stability — as it is for offshore wind. A report issued by American Clean Power and American Clean Power provided one example on how to expand transmission to offshore wind by transforming existing coastal transmission lines connected to retired power plants so the lines connect instead with offshore wind farms.
California must expedite and expand our growth of offshore wind capacity. Current planning scenarios assume production of 10 GW of offshore wind for California's power portfolio by 2045, and developing an interim target of 2030 for the upcoming report required by AB 525. But we must do more. Despite the progress of the BOAM-Intergovernmental Energy Task force and leadership in Humboldt County, we must work to make approval processes more efficient, and create long-term planning strategies, such as those required in AB 525, if we want to meet our renewable energy and emissions reductions goals.
###