Opinion: California is making historic progress in climate fight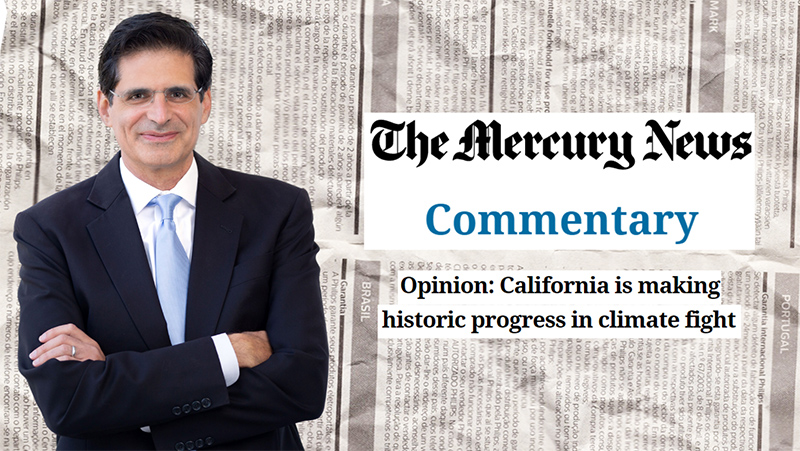 Published in the San Jose Mercury News on Tuesday, January 17, 2023
Last year, California returned to being a world leader on climate. Mary Creasman, the head of the influential California Environmental Voters organization, called it the "most impactful year of climate legislation in California history, hands down."
Let me fill you in on what the state Legislature accomplished. We set new, ambitious goals to reduce greenhouse gas (GHG) emissions and made climate-friendly solutions more affordable so every Californian can be a part of the fight against climate change.
First, the Legislature put its money where its mouth is. Last year's state budget committed nearly $54 billion over the next five years to fight climate change. There is money to accelerate investments in zero-emission vehicles (ZEV) to make cars, trucks and buses more affordable, make the state's electricity grid more reliable, help prevent wildfires and mitigate the impact of the state's historic drought – and so much more.
Gov. Gavin Newsom's new budget proposes to reduce some of this funding, but it still maintains $48 billion, or 89%, of these investments. As the new chair of the budget subcommittee that oversees energy and natural resources, I will fight to preserve and increase as many of these investments as possible.
California also refined and set major new goals. The landmark AB 1279 (Muratsuchi) creates a legally binding target to achieve net zero emissions by 2045 in all of California. My SB 1203, better known as "California Zero," requires the state to develop a plan for getting its 24,000 buildings and structures, vehicle fleet, and electricity usage to net zero GHG emissions by 2035.
We're pushing for more and better electrical vehicle charging stations. The budget set aside over $600 million over the next several years to build out the state's charging infrastructure and AB 2061 (Ting) requires the state to set standards to ensure drivers are getting what they pay for.
Thousands of more Californians will be able to have climate-friendly homes because of work at the state and federal level. Heat pumps that provide GHG-free heating and air conditioning, electric hot water heaters and other home appliances that replace their natural gas counterparts will reduce our carbon footprint. My SB 1112 will let many people pay for these climate-friendly improvements and others via an interest-free payment on their monthly utility bill, similar to how many people pay for their mobile phone as part of their monthly phone bill.
The plastic waste crisis has been well-documented and last year, the Legislature passed and the governor signed the most comprehensive measure in the nation to help tackle it. SB 54 (Allen) sets ambitious environmental mandates to ensure single-use plastic packaging and plastic food-related items can be recycled or composted within 10 years. It also calls for a 25% cut in the amount of plastic-covered material sold in California.
Finally, the governor issued an executive order pledging California will conserve 30% of the state's land and waters by 2030 – better known as "30-by-30." Given studies showing conservation efforts could soak up a significant amount of the carbon dioxide that has built up over the past 175 years, it's clear efforts like "30 by 30" will play a major role in our battle against climate change.
The progress we made battling climate change in 2022 was indeed historic and will provide other states and countries with a model on how to best fight climate change. But we have so much more work to do. We need to be just as productive for years to come if we are going to win this fight. I truly believe California is up to the challenge.