Advancing Climate Action
I am excited to share that a new Subcommittee on the Clean Energy Future was created this week, and I am honored to be selected as its Chair.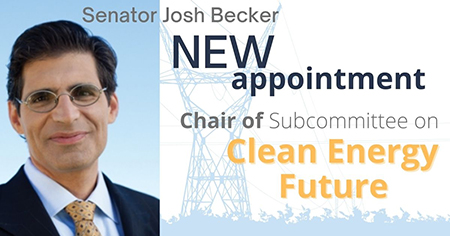 I'm grateful to Senate President pro Tempore Toni Atkins for this appointment and for recognizing the need to speed our transition to a clean energy future. I am also grateful for the support of my colleague, Senate Energy Committee Chair Ben Hueso, with whom I'll be working closely to help California achieve our climate goals — and Get to Zero!
The new subcommittee will explore policy options and identify barriers to get to a 100% clean electrical grid, starting with the entities that are already publicly committed to achieving 24/7 clean energy. I hope to get the opportunity to work in partnership with and hear from the many individuals — those in the Air Resources Board, the Public Utilities Commission, the utilities, the Independent Service Operator, and more — who are currently working toward the state's goals.
The Subcommittee on the Clean Energy Future is a subcommittee of the Senate's Energy, Utilities and Communications Committee, of which I'm a member.
While I'm excited about this announcement, I'm working hard to get the remaining climate bills over the finish line before the end of session and will be back with more content next week.
 You can read more about my new subcommittee here.
###