Hello and welcome to my December newsletter!
I trust you had a terrific Thanksgiving and are looking forward to a holiday-filled December!
Around The Peninsula
As always, even with the cooler fall/winter weather and the shorter days, there is plenty happening here in San Mateo & Santa Clara counties.
Investing In Our Communities 
After fighting for and landing state budget money for a number of important local projects, it was great to come home and deliver the good news in person! Last month, I was in Menlo Park to present a $4.5 million "big check" to the City Council for home electrification projects. Then, it was over to Palo Alto, where during my latest "Java with Josh," I delivered a $2 million check to Palo Alto Mayor Pat Burt to help replace the 111-year-old Newell Road Bridge that has been declared "functionally obsolete" by the state. Finally, the week after Thanksgiving, I stopped by the Redwood City Council meeting to present a $4.45 million "big check" to city officials to help turn an old parking lot into a new public park next to the Redwood City Public Library.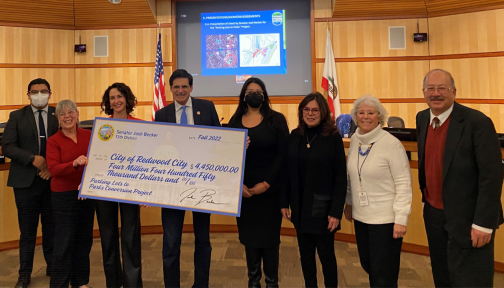 Top left, celebrating in Menlo Park with Angela Sherry Evans & Diane Bailey of the nonprofit Menlo Spark which works on electrification efforts, Vice Mayor Jen Wolosin, Mayor Betsy Nash, yours truly, and Councilwoman Cecilia Taylor. Top right, I'm joined by Palo Alto Mayor Pat Burt. At the bottom, in Redwood City with Councilmember Elmer Martinez Saballos, Vice Mayor Diana Reddy, Mayor Giselle Hale, me, Councilmember Lissette Espinoza-Garnica, Councilmember Alicia Aguirre, Councilmember Diane Howard, and Councilmember Jeff Gee.
Holiday Coat Drive 
For the second straight year, I'm partnering with the Ecumenical Hunger Program in East Palo Alto on a coat drive and we could use any new or gently used coats you can donate to those who are less fortunate this winter.
Thank you in advance for supporting our neighbors! 
Java with Josh 
I enjoyed talking with so many people at my last "Java with Josh" at King Plaza in Palo Alto the weekend before Thanksgiving. Stay tuned for my next gathering, which should be early in 2023!
Congratulations to Senator Jerry Hill!
My predecessor in this office, State Senator Jerry Hill, battled the tobacco industry for years during his time in the State Capitol. In 2020, his final year in office due to term limits, he had one of his biggest successes when his bill to ban the sale of flavored tobacco and vaping products was signed into law.
Big tobacco challenged that law and spent millions of dollars to qualify a measure for the ballot asking voters to overturn the ban.
Last month, 64% of the state's voters sided with Senator Hill and public health experts by rejecting the tobacco industry's plea to overturn the law, passing Proposition 31 to uphold the ban.
Congratulations and thank you, Senator Hill! 
Pigeon Point Light Station 150th Anniversary Celebration
The Pigeon Point Light Station, which is part of the California State Park system, marked a century and a half of lighthouse service to California's maritime community on a brisk November day. Today, the lighthouse offers boaters navigation aid using LED beacons through the U.S. Coast Guard. Best wishes for your continued success!
At left is Jordan Burgess, Deputy Director of the California State Parks' Santa Cruz District, and her son Logan, holding the Senate Certificate of Recognition marking the 150 year anniversary of the Pigeon Point Light Station. At right, I'm joined by Armando Quintero, the head of the California State Parks system.
Cyberbullying & School Safety
In November, I was invited to an important roundtable discussion about the rise and impact of cyberbullying with leaders and parent volunteers at the Ravenswood School District/City of East Palo Alto Safety Meeting. This is an issue in all of the school districts in our area, where people can easily create fake social media accounts to bully children and schools feel powerless to act. 
The social media companies used to take these accounts down within 24 hours, but now it can take weeks for them to act, while tremendous damage is being done to students in the meantime.  I recently held a press conference with regional education leaders and Darnise Williams, the Superintendent of Sequoia Union High School District, to put pressure on these tech companies to act more quickly. Having the public hear from these leaders about this crisis in our schools was powerful and I am busy developing legislation in case these companies don't act.
A big thank you to East Palo Alto Mayor Ruben Abrica, Police Chief Jeff Liu and school district Superintendent Gina Sudaria for inviting me to hear from them about this problem. I have two teenagers but it was still eye-opening for me and has already spurred a lot of action.
Small Business Saturday
I spent the Saturday after Thanksgiving celebrating "Small Business Saturday" by walking around 25th Avenue in downtown San Mateo. A national event since 2010, "Small Business Saturday" is designed to support small businesses and remember all they do to help us feel a sense of community. 
Visiting with "Reach and Teach" store manager Shelby Olson, along with owners Craig Wiesner and Derek Kikuchi before stopping by to see Steve at Vinyl Solutions.
Ruby Bridges "Walk to School Day"
Six-year-old Ruby Bridges stepped into the history books in 1960 when she integrated a New Orleans elementary school and became a national icon for the civil rights movement. Last year, I authored a resolution to mark November 14 as "Ruby Bridges Walk to School Day." This year, to the delight of the Martin Elementary School student assembly, Ms. Bridges herself came to mark the occasion in South San Francisco!!!
Veteran's Day
I was privileged to spend Veterans Day speaking with service members and their families at the American Legion Post 105's ceremony at Courthouse Square in Redwood City honoring all who served who live in San Mateo County and beyond.
Coming Up
The Legislature Reconvened December 5th
The Legislature's biennial 2023-24 session began on December 5th. Newly-elected members were sworn into office and both the Senate and Assembly adopted rules and conducted other organizational business, as well as opened a special session called by the Governor to consider penalizing oil companies that unfairly profited on the backs of California drivers this summer. Both bodies adjourned for the holidays and will reconvene on January 4, 2023.
"There Oughta Be A Law"
Have an idea for a new law in California? Want to take a law off the books that you don't think is working? Well, then I certainly hope you'll take part in my "There Oughta Be A Law" contest, a tradition I'm carrying forward from my predecessors Senator Jerry Hill and Senator Joe Simitian, who initiated the contest. With all of the smart, thoughtful, creative people in this district, I'm really looking forward to seeing some great ideas!
To see the rules for the contest and submit an idea, please just go to this online form and get started. 
How To Reach Me
Any time you're having a problem with a state agency or need information about state programs or want to voice your opinion about bills and issues pending before the Legislature, please don't hesitate to contact me. You can reach me at (650) 212-3313 or senator.becker@senate.ca.gov and you can always follow what I'm up to on Twitter at @SenJoshBecker and on Facebook at Senator Josh Becker.