Senator Josh Becker's February '23 Newsletter
Senator Josh Becker's February '23 Newsletter
Good morning and welcome to my February newsletter.
It's unfortunate to have to start this newsletter on such a somber note, but I just can't stop thinking about the tragedy in Half Moon Bay just two weeks ago. The senseless gun violence that hasn't just rocked our community but also far too many others up and down the state has to stop.
 
Around the Peninsula

My heart goes out to all of the victims of this tragedy - those who lost their lives, the family members that were left behind, the children and so many others who witnessed these horrible acts. Speaking to the hundreds of community members who gathered in downtown Half Moon Bay just days after the shooting to honor the victims and offer support to the family members was one of the hardest things I think I've ever had to do.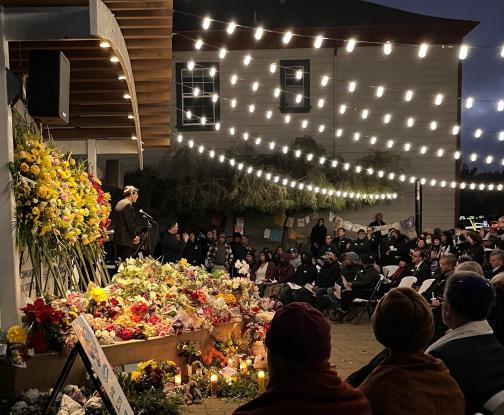 At the same time, my thanks goes out to the San Mateo County Sheriff's office and to all of the other members of the Peninsula law enforcement community who responded so quickly on that January day.
I am always amazed by and thankful for the way so many people in our community come out to help one another, especially in a tragedy. For people who may need counseling or other types of assistance in the wake of the shooting, I have put together a list of resources on my website that may be useful.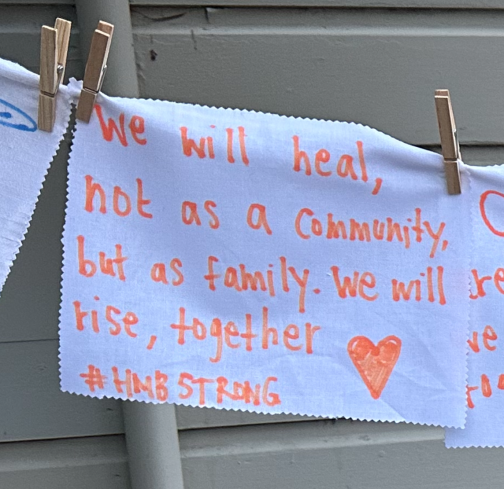 Storm Damage Assistance

I certainly hope all of you have fared well during the seemingly endless storms that pounded the area in late December and early January. The flood damage that has been done and the lives that have been lost has been truly heart-wrenching.
Amid all of the chaos and heartbreak the storms brought with them, there were also many rays of sunshine from local groups jumping in to help those in need. For example, Ayudando Latinos a Soñar (Helping Latinos to Dream), or ALAS, joined with Mothers Against Poverty in Half Moon Bay to provide over 100 families with essential food and shelter.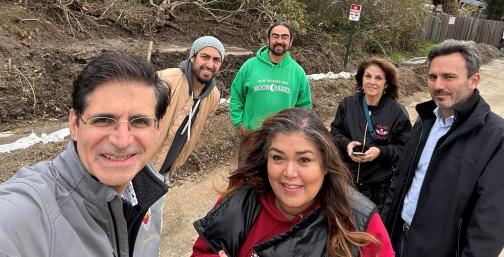 If you or someone you know is in need of shelter, food, clothing, or any other type of assistance as a result of the storms, there are several places where you can go.
In San Mateo, the best place to start is the county's website at https://www.smcgov.org/. To receive emergency notifications about flood conditions and road closures, subscribe to SMCAlert by registering at https://www.smcgov.org/ceo/smc-alert.
In Santa Clara, call the "Here 4 You Call Center Hotline" at (408) 385-2400. To get emergency notifications about flood conditions and road closures, subscribe to AlertSCC by registering at https://emergencymanagement.sccgov.org/AlertSCC.
If you have trouble getting through or can't find what you're in need of, please contact my office at (650) 212-3313.

Millbrae Turns 75!

It was great to catch up with friends new and old at the recently re-opened Millbrae Recreation Center to mark the 75th anniversary of Millbrae's cityhood. During the festivities, we celebrated Millbrae's history, heritage, charm, and growth over the last three-quarters of a century, plus the city unveiled its 75th Anniversary Logo, which you see decorating the cake that Mayor Ann Schneider is slicing into below. Millbrae conducted a contest to design the new logo and local artist Cecelia Perez came out on top, so expect to see that logo a lot over the next year!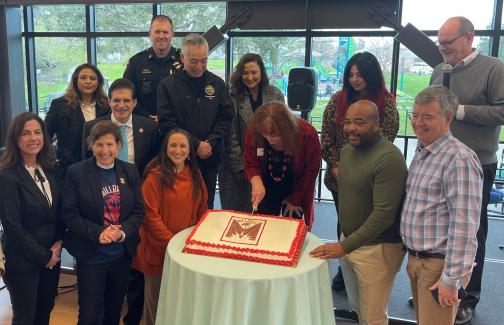 In the front row are local Assemblywoman Diane Papan, Councilmember Gina Papan, Councilmember Angelina Cahalan, cake-cutting Mayor Ann Schneider, Vice Mayor Maurice Goodman, and San Mateo County Supervisor Dave Pine. In the back row are Assistant City Manager Isabel Carlos, yours truly, Lieutenant Eamonn Allen, Councilmember Anders Fung, San Mateo County Sheriff Christina Corpus, Cecelia Perez, and Millbrae City Manager Tom Williams.

Lunar New Year

I hope you had a chance to enjoy one of the many Lunar New Year celebrations on the Peninsula this year. I attended several events, including Mountain View's first-ever celebration, where I also presented Vice Mayor Pat Showalter with a certificate recognizing the city's first Chinese Language Civic Leadership Academy and its Ambassador Program for championing this effort. Gung Hay Fat Choy!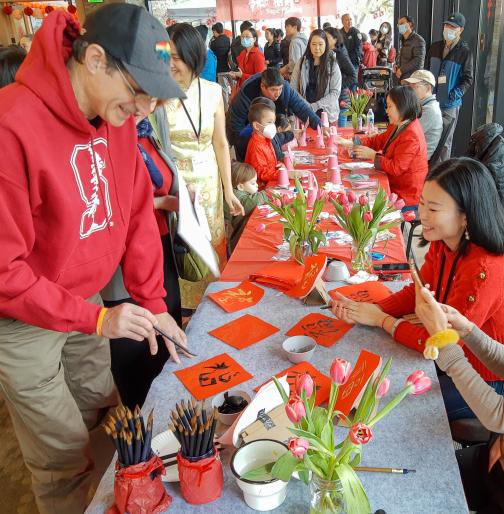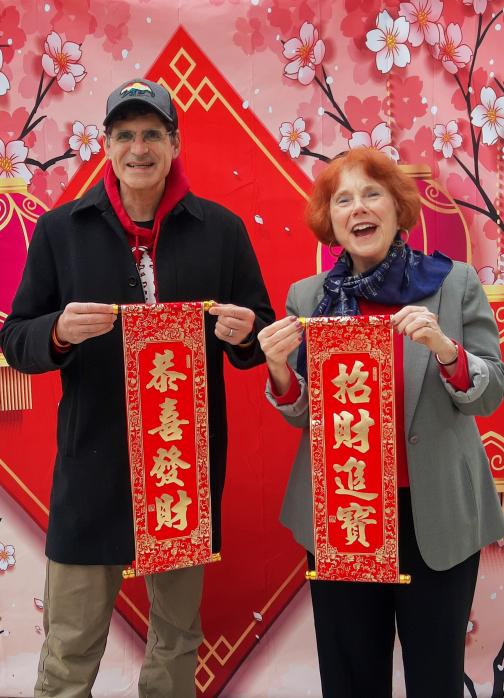 Free College!

Members of the College of San Mateo Bulldogs football team joined other students in late January for a "Back to School Block Party" celebrating SB 893, a measure I authored to help make college tuition- and fee-free at CSM, Cañada College in Redwood City, and Skyline College in San Bruno.
Thank you for the shout-out and keep hitting those books!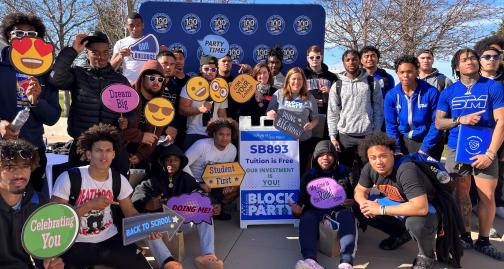 What's Happening in Sacramento

Governor Releases State Budget Proposal

Governor Newsom released his 2023-24 state budget proposal in early January, and while there are a lot of things to like in it, the reality is the state is facing a deficit of about $22.5 billion, so funding for some programs will end up being cut.
One area where the Governor has proposed to cut funding is in some of the state's landmark climate change-related programs. The proposed cut is about 11%, or about $6 billion over five years, and I'm concerned because this is really a time when we should be accelerating our work to fight climate change, not tapping the brake pedal.
New Committee Assignments

The new year means new committee assignments in the Legislature and this year, I'll be able to play a larger role in shaping the state's climate budget as the new chair of the Senate Budget & Fiscal Review Committee's Subcommittee 2 on Resources, Environmental Protection and Energy. The subcommittee traditionally approves more than $12 billion in funding each year - though the climate packages of the last two years boosted that number to over $20 billion - reviewing, adjusting and approving the budgets of each state agency that deals with natural resources, environmental protection, and energy issues.
In addition to chairing that budget subcommittee and Senate Subcommittee on the Clean Energy Future, I'll be a member of the full Senate Budget & Fiscal Review Committee, the Senate Business, Professions and Economic Development Committee, the Senate Energy, Utilities and Communications Committee, and the Senate Transportation Committee.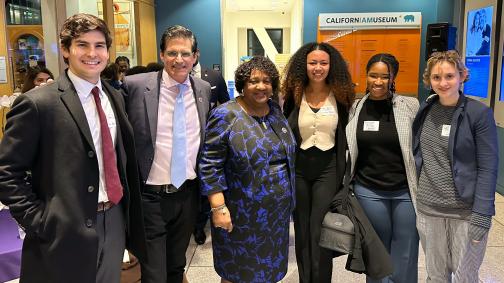 Delighted to be joined by some of my Sacramento staff at the swearing in of Dr. Shirley Weber as California's Secretary of State at the California Museum last month. A former four-term member of the State Assembly from the San Diego area, Dr. Weber is California's first Black Secretary of State.

"There Oughta Be A Law"

The deadline to submit an idea to my "There Oughta Be A Law" contest was January 20 and now I'm in the process of sorting through 113 submissions to decide which one I will introduce as a bill by the Legislature's February 17th deadline to introduce measures.
Once I select the winning entry, I'll announce it via a press release and I'll certainly talk about it in next month's newsletter.

How To Reach Me

Whenever you're having a problem with a state agency, need information about state programs or want to voice your opinion about bills and issues pending before the Legislature, please don't hesitate to contact me. You can reach me at (650) 212-3313 or senator.becker@senate.ca.gov and you can always check out what I'm up to on Twitter at @SenJoshBecker and on Facebook at Senator Josh Becker.
Sincerely,
Josh Becker
Senator, 13thDistrict