Creating Change July 2023
Welcome to my July newsletter. It has been a busy and exciting summer so far! This newsletter contains important updates on legislation and a Presidential visit to Palo Alto.
My family and I hope you had a happy and safe Fourth of July. The Peninsula was full of Independence Day celebrations. To celebrate the founding of our great nation, my son Aaron and I had the honor of participating in the Redwood City Independence Day Parade, which was so much fun!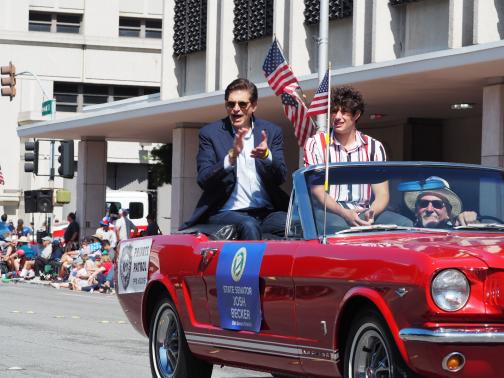 Pictured here is Senator Josh Becker and son Aaron in Redwood City.
Legislative Update
I am working to pass legislation that will address critical California issues, and my bills are quickly proceeding through the legislative process. As the Legislature approached its summer recess, there are some bills that have recently received key approvals in the State Assembly:
SB 48 – Cuts carbon emissions in large and older buildings.
SB 49 – Incentivizes solar and clean energy projects on top of parking lots and alongside highways.
SB 362 – The Delete Act gives consumers control over their personal data.
SB 410 – Solves the massive problem of interconnection by helping utilities like PG&E to do their job and get homes and businesses connected to the grid.
SB 420 – Accelerates the building of critical clean energy transmission.
SB 485 – Protects elections workers and volunteers from harassment.
SB 570 – Protects a pregnant individual's ability to make informed decisions about their and their newborn's healthcare.
SB 755 – Creates a one-stop-shop for incentives to help Californians electrify their homes.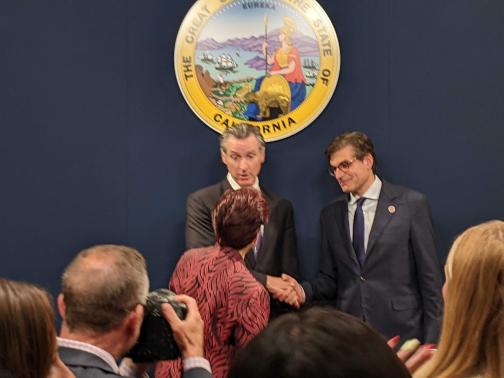 Pictured here with Governor Gavin Newsom
This year has been critical for preserving the progress we have made to combat climate change, decarbonize our government and economy, and promote clean energy. The Governor signed SB 149, which I jointly authored with Senator Anna Caballero (D-12) and Assembly Speaker Robert Rivas (D-29). This bill accelerates California's efforts to build green fast by streamlining frivolous lawsuits for climate related projects. It is a crucial step toward moving California forward to achieve our goals of promoting new jobs and a green economy.
For a full list of my legislation for 2023, please visit my website.
Budget Update
In addition to our legislative gains, I am proud to have successfully secured millions in state funds to support local projects in Senate District 13. The $10 million in state funding will go to support important community initiatives within Senate District 13 and builds on the gains we have made in prior years. Here is a list of the budget achievements from which our region will benefit. (link)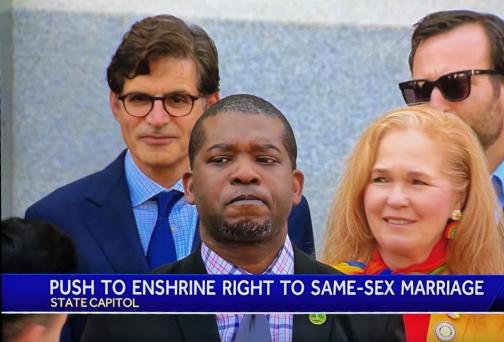 Pictured here with Assemblymember Corey Jackson, Senator Ben Allen and Assemblymember Gail Pellerin.
To launch Pride at the Capitol, I joined my colleagues and advocacy groups for the announcement of Assembly Constitutional Amendment 5, which enshrines the right to marry in the state constitution regardless of gender or race.
California Nonprofit of the Year
The halls of the Capitol were filled with members from the nonprofit Ayudando Latinos A Soñar (ALAS). Donning their black and pink shirts, ALAS representatives came to Sacramento on June 7 to take part in my California Nonprofit of the Year celebration as my honoree. ALAS is dedicated to working for social wellness through multicultural practices, mental health care, individualized and collective support related to education, immigration processes, and work, and advocating for the wellbeing of the whole community.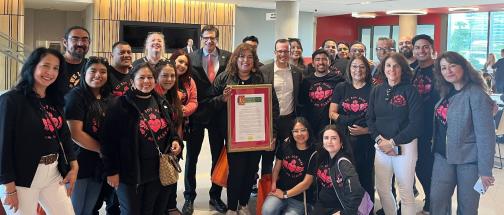 Pictured here with Assemblymember Marc Berman and representatives of nonprofit Ayudando Latinos A Soñar (ALAS).
Team Becker is Expanding
We are very excited to have some new additions to Team Becker. Join me in welcoming Charlie Lawlor as my new press secretary, Zoe Johnson as my new legislative aide, Miles Goodman as my new caseworker/district representative and Anthony Yoshida as my new scheduler/district representative! Each new member of our team has a wealth of experience and are dedicated public servants working to address the needs of the constituents of Senate District 13.
Congratulations to Senate Fellow Amaya Childes!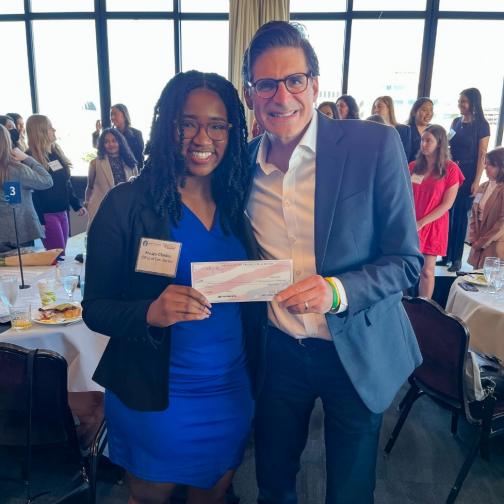 Pictured here with California Senate Fellow Amaya Childes
I would like to congratulate my California Senate Fellow, Amaya Childes, for receiving a scholarship from California Women Lead and the California Commission on the Status of Women and Girls. This scholarship is intended to enable women to seek their full leadership potential through education, training and network development.
Presidential Visit to Palo Alto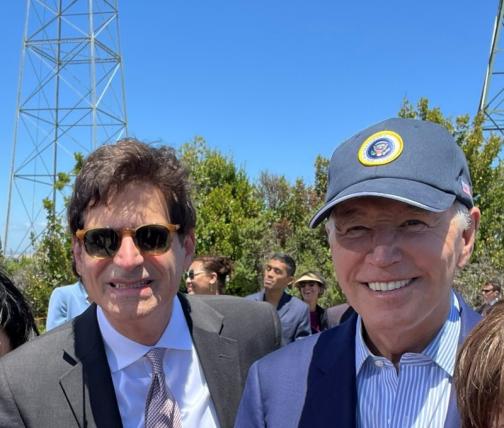 Pictured here with President Joe Biden in Palo Alto.
The 13th Senate District had a special visitor recently! President Joe Biden visited Palo Alto on June 19 with Governor Gavin Newsom to announce a major investment in climate resilience and electric grid projects. In addition to announcing this bold initiative, which complements my efforts to combat climate change, the President toured the Lucy Evans Baylands Nature Interpretive Center. The success story of preserving the Baylands will soon be documented by one of my terrific summer interns.
Happy Pride Month!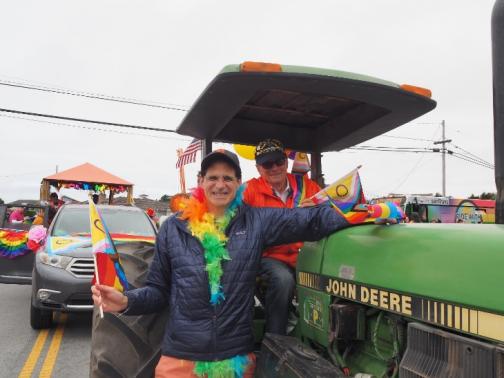 Pictured here with Half Moon Bay Parade Grand Marshal "Farmer John" Muller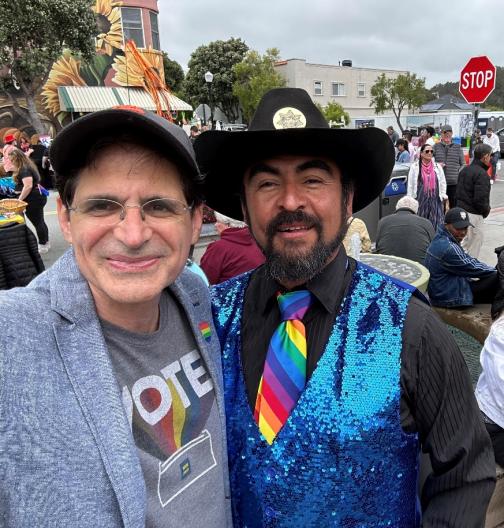 Pictured here with Half Moon Bay Vice Mayor Joaquin Jimenez
June was a month of Pride and purpose! Communities across the Bay Area and the world came together to celebrate LGBTQ+ Pride Month. I was honored to march along with so many constituents and friends in several Pride events across District 13. The California State Senate also commemorated Pride Month at the Capitol. I am proud to work alongside my colleagues in the LGBTQ+ Caucus, which is the largest and most diverse LGBTQ+ Caucus of any legislative body.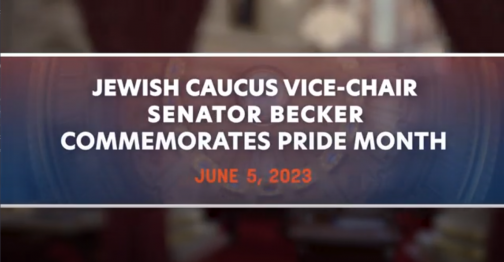 Click the image above to view the video.
However, the rise in hatred and extremism and the normalization of excluding LBGTQ+ folks who are deemed different coincides with a rise in antisemitism and white supremacy. When people's stories are banned from libraries; when violence begins to rise; when parents teach their children to fear rather than love one another; history shows us that what follows is violence, trauma, and suffering.
East Palo Alto 40th Anniversary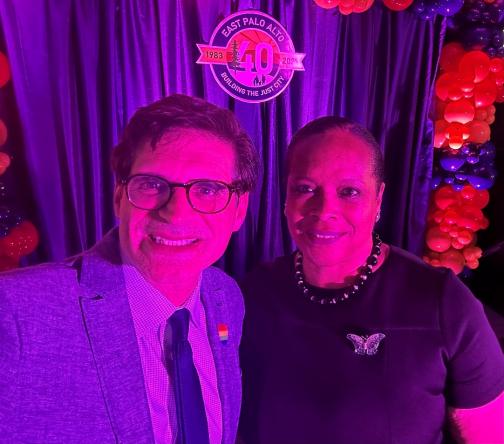 Pictured here are Senator Josh Becker and Mayor Lisa Gauthier.
Happy Anniversary to the City of East Palo Alto, which was incorporated on July 1, 1983. East Palo Alto is home to some of California's most impactful economic engines and a vibrant community that I am proud to represent. I was proud to join them to commemorate this auspicious occasion.
Happy 70th Anniversary to SAMCEDA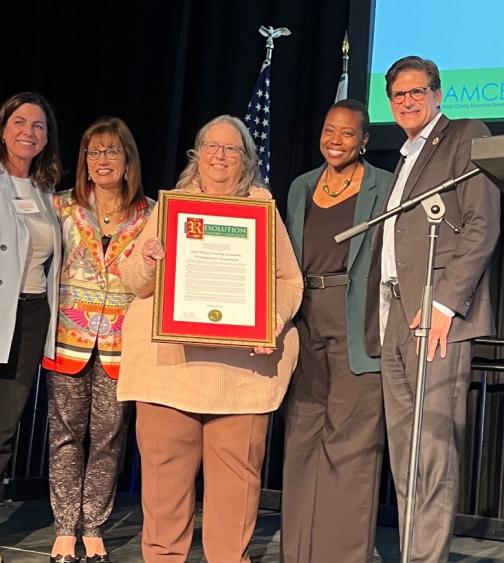 Pictured here with Assemblymember Diane Papan; Rosanne Foust, President & CEO SAMCEDA; Sheri Sager, Chair of the Board, SAMCEDA (Stanford Medicine Children's Health); and Ariane Hogan, Incoming Chair of Board, SAMCEDA (Genentech).
Assemblymember Diane Papan and I were pleased to present a legislative resolution honoring the 70th anniversary of SAMCEDA (San Mateo County Economic Development Association). The event, which was held on June 6 at the SMC Event Center, highlighted the important work that SAMCEDA does in San Mateo County to build a strong business foundation, a robust economy, and a resilient community.
With deadline looming, Becker bills on privacy, clean energy advance in state Senate (June 1, 2023)
Election 2024: California voters likely to decide whether to spend billions to defend state against fires, floods and heat waves 'Climate bond' moving through Legislature, could be one of the largest environmental measures ever put before voters (June 26, 2023)
East Palo Alto, senior housing in North Fair Oaks Sen. Josh Becker said spending plan includes about $10M for projects in his Peninsula district (June 30, 2023)
Bay Area allocated transit money in new state budget Region to get $540 million in new year to help ailing transit agencies (June 30, 2023)

And as always, my office and I are here for you!
If you are having difficulties with a state agency, need information about state programs or want to express your position on legislation or public policy issues, please do not hesitate to contact me at (650) 212-3313 or senator.becker@senate.ca.gov. You can always follow me on Twitter at @SenJoshBecker and on Facebook at fb.me/Sen.Josh.Becker.
Sincerely,
Josh Becker
Senator, 13th District