Creating Change June 2023
Senator Josh Becker's June '23 Newsletter
Good afternoon and welcome to my June newsletter!
The annual Town of Hillsborough Memorial Day Parade is one of the highlights of the year for many elected officials in San Mateo County, and I was pleased to be invited to participate again this past weekend.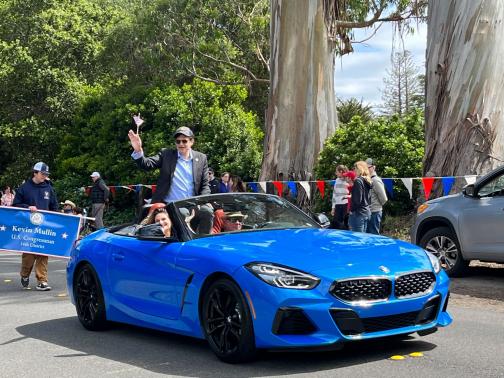 The red-white-and-blue cavalcade of classic cars, flag-waving community members and live bands makes its way down the tree-lined streets of Hillsborough, starting near Town Hall, then up Floribunda, down Eucalyptus, and finishing at North School. Parade participants and community members are then invited to join the Memorial Day Observance Ceremony, carnival games, food truck, live music and community camaraderie. I'm grateful to have had the chance to honor those who made the ultimate sacrifice while serving our nation.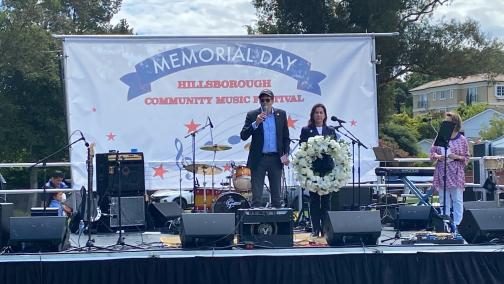 Addressing the Hillsborough Memorial Day Observance Ceremony with Assemblymember Diane Papan
Belmont Java with Josh
The Belmont Library was open for more than just coffee and conversation on May 19 – it was open to create, innovate, and experiment in the library's newly transformed collaborative makerspace.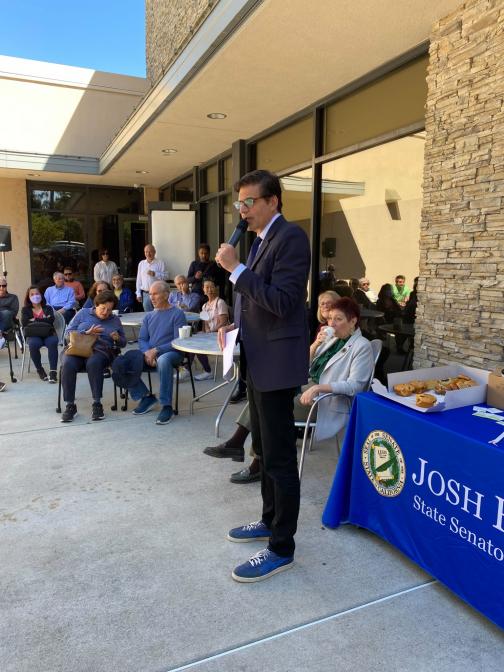 Over 50 community members gathered in the library's outdoor amphitheater for "Java with Josh," my bi-monthly community coffee where I informally meet with constituents to hear their concerns and answer their questions on state-related issues and my legislative agenda. I was joined by Belmont Mayor Julia Mates and San Mateo County Supervisor Ray Mueller, and welcomed by Belmont Library branch manager Anna Koch.
Following the Java, we were invited by assistant librarian David Vargas into the makerspace to try our hand at the 3-D printer, laser cutter, sewing machines and more. Library manager Anna Koch emphasized that libraries are being transformed from places that collect and loan reading and listening materials to places that inspire communities to meet, engage, create and collaborate.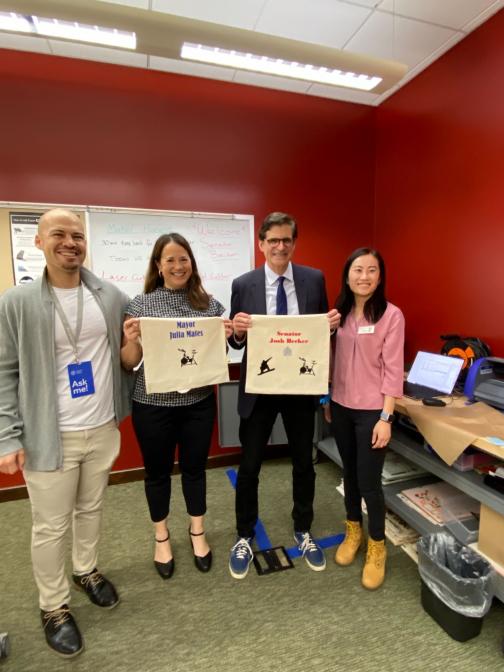 Pictured here with Belmont Library Makerspace Director David Vargas, Belmont Mayor Julia Mates, and a Belmont Library Makerspace volunteer.

Woodside Community Meeting
I convened a community meeting with other state and local officials in the Town of Woodside on May 19 for a discussion on the closure of Highway 84 and the efforts by Caltrans to repair and reopen the road. Representatives from Caltrans described the scope and complexity of the landslide that led to the closure, and answered questions and listened to concerns from attendees. I was joined by Assemblymember Marc Berman, San Mateo County Supervisor Ray Mueller, and Woodside Mayor Chris Shaw at Woodside's Independence Hall.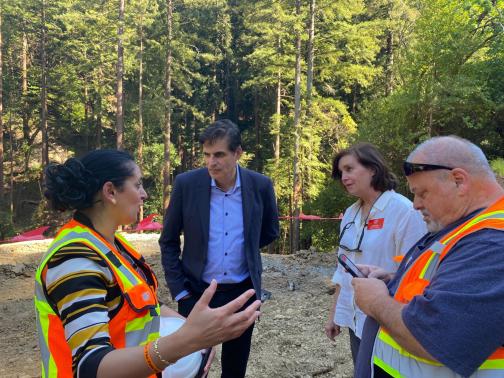 Pictured here with Caltrans District 4 Director Dina El-Tawansy, Senior District Representative Joan Dentler from my office, and Caltrans Crewmember Mark.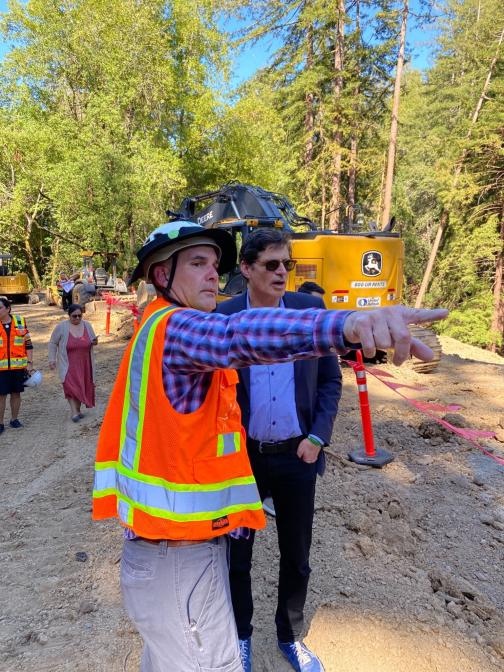 Pictured here with Caltrans District 4 Maintenance Manager Earl Sherman
Congresswoman Anna Eshoo provided a letter of support for the road repair project that was read aloud during the meeting. Over 200 community members attended the meeting either in person or virtually. The meeting was recorded and the two recordings can be accessed here:
1. First part of the meeting, including a presentation from Caltrans: Click here and use passcode: @QQLsZe2
 
2. Second part of the meeting: Click here and use passcode: 9#EK$zL+
Legislative Update
The Senate is approaching its House of Origin deadline this week where every Senate bill must clear the Senate to continue to be considered for the year. I'm proud to report nineteen of my bills are headed to the Assembly for further consideration.
This year we have a very substantive group of bills addressing critical issues such as climate change, social justice, reproductive health data privacy, and affordable housing.
This includes SB 410 that will require PG&E and other public utilities to adhere to more strict timelines to accommodate new electricity grid connection requests. This will reduce current delays and preemptively prevent future delays from connecting new homes and upgraded panels to the grid.
I have heard from so many of our neighbors who have had issues upgrading their homes to accommodate their electric upgrades.
The core responsibility of our utilities is to connect things to the grid — things like new housing developments, home electrification upgrades, and EV chargers. Unfortunately, California's government-granted electricity monopolies, particularly PG&E, are failing to perform these core responsibilities.
Californians are experiencing extreme delays in the time it takes for utilities to complete these energization projects — some even up to 6 to 9 months. It should NOT take 6 months for a utility to upgrade your distribution line.
It is beyond time to hold PG&E accountable for these delays. This bill will do that.
You can check out all of my legislation to fight climate change, advance economic mobility, and create a more fair justice system on the Legislature's bill information website.
New Express Lanes on the Peninsula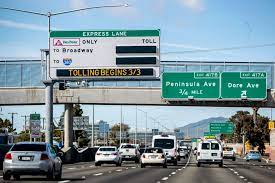 You may have noticed a recent change in your 101 commute: the opening of express lanes along the Peninsula from 380 in San Bruno down to 85 in Mountain View. This multi-agency project was years in the making. These lanes were designed for speeds 45 miles per hour or greater, and to decrease commute times on the Peninsula.
There have been a lot of questions about how to use these new lanes, including how the toll authority collects fees for using them. The answer there is FasTrak® Flex. Tolls are based on zones within the corridor, which run about 4-5 miles long with a specific toll price assigned to travel in that zone. Tolling is compiled no matter whether you travel in San Mateo County or Santa Clara County.
You can find answers to other questions, including total cost and benefits of these new express lanes here. Please reach out to my team if you have issues with tolls or travel utilizing the express lanes. We're here to help.
Middle Class Tax Refund debit cards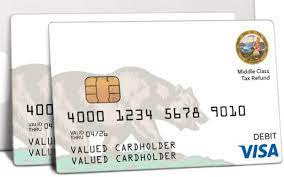 A reminder if you received one of the Middle Class Tax Refund debit cards that were sent out to millions of Californians between October 2022 and January 2023 - please cash them! Recent media reports say many Californians have thrown away their debit cards or otherwise not utilized them. That's your money - use it!
If you are having issues accessing the funds, never received your debit card or are no longer in possession of your debit card, please call MCTR Customer Service at 800-240-0223 or visit mctrpayment.com.
Whenever you're having a problem with a state agency, need information about state programs or want to voice your opinion about bills and issues pending before the Legislature, please don't hesitate to contact me. You can reach me at (650) 212-3313 or senator.becker@senate.ca.gov and you can always check out what I'm up to on Twitter at @SenJoshBecker and on Facebook at fb.me/Sen.Josh.Becker.