Senator Josh Becker's October '22 Newsletter
Happy fall to you! The Legislature has adjourned its 2021-22 legislative session and the Governor has finished acting on the nearly 1,200 bills sent to his desk this year. Before I get to what happened at the Capitol over the past month, let's look at what's coming up.
Coming Up
Register to Vote – And Vote!
The most important thing I can remind you about at this moment is to make sure you are registered to vote in the November 8 election – and vote when you get your ballot in the mail or on Election Day if you prefer to vote in person. The deadline to register to vote if you want to get a ballot sent to you is October 24 and you can register right now by filling in this online application. If you miss that deadline, you can go to the county registrar of voters or any polling location to register and fill out a ballot at the same time, even on Election Day. For people who are already registered, San Mateo and Santa Clara counties have begun sending out vote-by-mail ballots, so make sure you vote and get your ballot in the mail so it's postmarked by Election Day, November 8. Need to check your voter registration status? You can do that at voterstatus.sos.ca.gov.
Tax Refund Coming
Between now and early January, you and millions of other Californians may receive a cash refund from the state of up to $1,050! You will automatically receive a refund – there is no paperwork to fill out or application to submit – as long as you filed a 2020 state tax return by October 15, 2021, and had an adjusted gross income (AGI) of no more than $250,000 as a single filer or $500,000 as a joint filer.
You can also go to the Franchise Tax Board's "Middle Class Tax Refund Estimator" to see how much your refund is likely to be. Generally, if you filed your taxes electronically last year and received your 2020 tax refund by direct deposit, your refund should be sent to you by direct deposit as well. Otherwise, you will receive your refund on a debit card.
Questions? Feel free to call the Franchise Tax Board at (800) 542-9332 or you can call my office (650) 212-3313.
Flood and Fire Preparation Town Hall
Want to learn more about the challenges associated with preparing for floods and fire? I hope you'll tune in Wednesday, October 12, from 4:30pm to 5:30pm for "Flood & Fire Insurance in the Time of Climate Change." I'll be joined by California Insurance Commissioner Ricardo Lara and a Federal Emergency Management Agency official to talk about flood and fire insurance in California, as well as a California Fire Safe Council expert to show how people and communities can harden their neighborhoods and better protect themselves. To tune in, just go to my website.
Goodbye, September
Teen Mental Health
Speaking of town halls, if you didn't catch "Mind Matters: Nurturing Mental Wellness in Adolescents," the virtual town hall I hosted last month, you can still watch it on my website and find some terrific information about places you or a loved one can go for help. I was joined by a panel of experts to talk about how best to help adolescents struggling with emerging mental illness get the diagnoses and treatments they need. We also talked about how to identify and address common stressors in a young person's life and how to prevent them from escalating into a mental health crisis. Money always seems to be in short supply to help parents and children deal with the challenges they face and to train more mental health professionals in California. This year, the state put $4.7 billion in the budget as part of its Master Plan for Kids' Mental Health to, among other things, add 40,000 new mental health workers.
A huge thank you not just to the panelists who joined the discussion, but also to the more than 400 people who took part and asked some tremendously thoughtful questions.
San Mateo County Firefighters Chili Cook Off
Hanging at the San Mateo County Firefighters Chili Cook Off in Central Park.
Legislative Roundup
September 30 was the deadline for Governor Gavin Newsom to act on all of the legislation sent to his desk by members of the Assembly and the Senate.
I was fortunate to have all 14 of the bills I sent to his desk signed into law, but batting average alone isn't everything! I'm really proud of what is in each of those bills and how they'll make a difference in so many people's lives. Just to highlight a few of them:
This was the biggest year for climate-related measures in California's history and I was proud to play a leading role in the work. I'll have more detail on what we accomplished at a later date, but two bills I'd like to highlight here are:


SB 1203, better known as "California Zero," requires the state to develop a plan for getting its buildings, vehicle fleet, and electricity usage to net zero greenhouse gas emissions by 2035. Given there are 24,000 state-owned buildings and structures, California government can and should lead by example when it comes to transitioning to a clean energy future.

SB 1158 is something I like to call "The Roadmap to 24/7 Clean Energy." It requires power companies like PG&E to disclose when the electricity grid is running on clean power. California requires the utilities to meet certain greenhouse gas targets, but we're not measuring how well they're doing. Once we know where the gaps are, then we can figure out how to fill them.

SB 893 makes it possible for the San Mateo County Community College District to provide a free college education to nearly 30,000 students. Talk about a way to change a person's life!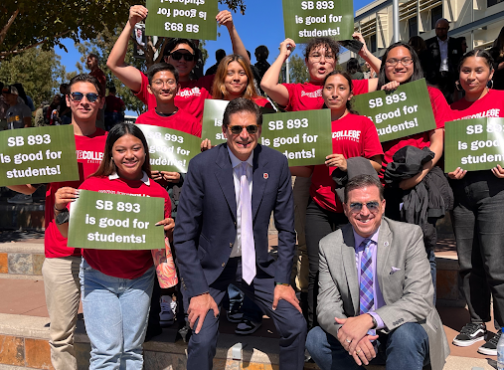 At La Cañada Community College in Redwood City with students and Assemblyman Kevin Mullin urging the Governor to sign SB 893. It worked!
SB 1008 makes phone calls to and from people in state prison and state & local juvenile facilities free of charge. Helping prisoners stay in touch with their families has been proven to drive down recidivism rates and this will save prisoners and their families millions of dollars a year in the process.
SB 948 eliminates some bureaucratic rules related to affordable housing construction and uses the savings – an estimated $40 million – to build more affordable housing units in the state.
Increasing Recycling
You'll hear more about new laws coming your way the closer we get to January 1, but given how much people care about the environment here on the Peninsula, I want to mention two of the bigger bills on this subject passed this year even though they won't kick in for a year or two.
SB 1013 (Atkins) adds wine and liquor bottles to the state's highly successful bottle bill program beginning in 2024. That means you'll pay an extra nickel or dime when buying a bottle of wine or liquor, just like you do now when buying a soda or many other drinks, but of course you can get that money back when you turn in your bottle or can. The bill is expected to raise the recycling rate of these containers from 30% to 75%.
If you hate single use plastic packaging like I do, then you'll love SB 54 (Allen). It requires all food-related plastic materials to be recyclable or compostable within 10 years and requires the food packaging industry to cut the amount of styrofoam containers used and significantly increase the recycling rates of those that are used within a decade.
Enjoying Coastal Cleanup Day in Redwood City.
Around The Peninsula
The best part about the Legislature being out of session is I get to spend all my days here on the Peninsula taking in some wonderful sites, meeting new people and seeing old friends.
Fog Fest
It was great to visit Pacifica and join hundreds of folks to celebrate the return of the Fog Fest Parade and Festival!
The Festival took a two-year break due to the COVID-19 pandemic, but this year it was back with plenty of food and fun, all while honoring local healthcare heroes and the essential workers whose tireless efforts during the pandemic were critical to so many Californians.
Driving through the Fog Fest Parade and enjoying some great food!!!
GreenTown Los Altos
Thanks to GreenTown Los Altos for inviting me to talk climate policy with folks on October 1 during its "Electrify Your Life" auction. If you're a frequent reader of my newsletter, you know climate change is a true passion of mine and it was wonderful to spend some time with 100+ other local folks who feel the same way!
Honoring Steve Schmidt, this year's recipient of the GreenTown "Environmental Hero Award" for his work to make it easier for people to be energy efficient by showing them their energy usage.
San Mateo County Historical Association's History Makers
The SMC Historical Association began in 1935 with a mission to "inspire wonder and discovery through education about the cultural and natural history of San Mateo County." It was such a treat to see the Association honor legendary history-making San Francisco 49ers Dwight Hicks, Ronnie Lott, Carlton Williamson, and Erick Wright. They formed one of the greatest secondaries in 49ers history in the 1980s, winning 12 Super Bowl titles between them!
Worker Protest at SFO
I participated in UNITE HERE Local 2's hospitality workers protest at SFO calling on the airport to provide fair wages and health care. The three-day strike got many of us arrested, but the fast-food workers did get a new contract with a pay raise and better health insurance.
San Mateo Building Trades Luncheon
I had the chance to sit down and talk with Peninsula members of the Building and Construction Trades Council to hear what was on their minds. They wanted to talk about some of the important bills the Legislature passed this year and how to create more quality jobs in the coming years.
San Mateo County's New Civic Office Building
Kudos to San Mateo County on its new Civic Office Building, better known as COB 3. It's the first net zero energy mass timber structure in the country and the benefits cascade to create a 70% smaller carbon footprint than traditional building technologies. Mass timber has become an emblem for sustainable architecture for its low carbon footprint and because timber is very lightweight, it requires less structural material to support it. The architects were able to pair the timber structure with a very ductile steel core to further reduce the material required for the foundations. It's a domino effect in material efficiencies and carbon savings.
How To Reach Me
Any time you're having a problem with a state agency or need information about state programs or want to voice your opinion about bills and issues pending before the Legislature, please don't hesitate to contact me. You can reach me at (650) 212-3313 or senator.becker@senate.ca.gov and you can always follow what I'm up to on Twitter at @SenJoshBecker.