SB 504 immediately becomes law as several other Becker bills advance in Senate
SACRAMENTO – With a stroke of a pen, Acting Governor Eleni Kounalakis signed Senator Josh Becker's Senate Bill 504 into law today to ensure equal access to voter registration for overseas military personnel and people living with disabilities.
In addition, SB 504 ensures that formerly justice-involved Californians are notified when they are eligible to re-register to vote. The bill also builds on CA's vote-by-mail law by clarifying that registered voters no longer need to apply to vote by mail, as vote-by-mail ballots are now required to be mailed to all California voters. The legislation was the first to be signed by Acting Governor Kounalakis and the first bill by Senator Becker to become law in 2022. The new law took effect immediately upon being signed.
"I'm so honored for Acting Governor Kounalakis to sign my voter access and equity legislation into law," said Senator Becker, D-Menlo Park. "With Acting Governor Kounalakis as our head of state, it's a long-awaited historic day for California that's made all the more significant as we observe Women's History Month."
Sponsored by the California Association of Clerks and Election Officials, SB 504 had bipartisan support as well as support from ACLU California Action, the California Federation of Teachers, California State Association of Counties, California Public Defenders Association, Disability Rights California and the League of Women Voters of California.
Other Becker Bills Advancing in the Senate
Several other bills by Senator Becker also moved forward in Senate this week.
Digital Education Equity Program, SB 876 – With a bipartisan unanimous vote, the Senate Education Committee approved SB 876, which would create the statewide Digital Education Equity Program, called DEEP, to provide California public school districts with equitable access to the professional development for teachers and technical assistance that enable schools to effectively use technology in education. The action sends the bill to Senate Appropriations for fiscal review.
Mental Health Diversion, SB 1223 – The Senate Public Safety Committee approved SB 1223, which would allow a diagnosis of mental disorder to be included in the eligibility criteria for consideration of mental health diversion for a defendant. SB 1223 would also remove a requirement that the diagnosis be recent. The action sends the bill to Senate Appropriations for fiscal review.
Food With Care, SB 1481 – The Senate Education Committee unanimously approved SB 1481, which would extend California's Universal Meals Funding to state-licensed daycare providers so they can provide free meals to children who are too young to attend school. California will provide free breakfast and lunch to all public school students during the upcoming school year. The Senate Education Committee's bipartisan vote sends the food equity bill for California's youngest learners to the Senate Human Services Committee for further policy review.
Click here to see Senator Becker's entire legislative portfolio.
###
Further resources:
Acting Governor Eleni Kounalakis' news release and photos of her first bill-signing ceremony:https://www.gov.ca.gov/2022/03/31/acting-governor-eleni-kounalakis-signs-legislation-extending-statewide-eviction-protections/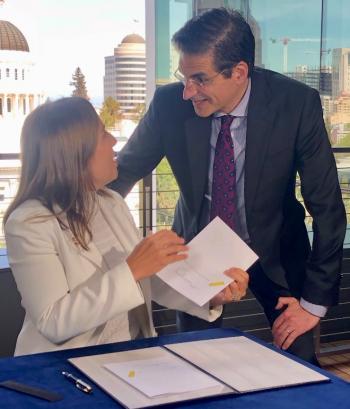 Updated 4/1 to correct historical reference.