Honoring Civil Rights Icon Ruby Bridges *UPDATED: More Video*
Senator Becker, South San Francisco Students & Teachers Celebrate California's First Statewide Observance of Ruby Bridges Walk to School Day
SOUTH SAN FRANCISCO – Senator Josh Becker, D-Peninsula, joined jubilant students, teachers, parents and school and city leaders today to celebrate California's first observance of Ruby Bridges Walk to School Day – an event made possible by fifth-graders at Martin Elementary School.
"I'm deeply honored to participate in this impressive effort by Martin Elementary School and the students of teacher Deborah Carlino, whose successive fifth-grade classes have worked since the 2017-18 school year to make to today's celebration a reality in California," said Senator Becker.
"When I look at where we are as a school and community now in terms of celebrating Ms. Ruby Bridges, I am amazed and honored to have witnessed how it all started." said Martin Elementary School Principal Jonathan Covacha. "We are very grateful for the learning opportunity this brings to our students, giving them the chance to engage in conversations regarding the civil rights movement and discuss what they can do to be part of the process as we continue to inch forward to equality as a country."
Middle and high school students in South San Francisco also joined the celebration from a different starting point to walk to their respective schools.
The roughly half-mile trek by Martin Elementary School students and supporters was the latest milestone in a long journey. It began during Black History Month more than three years ago, when Ms. Carlino's fifth-graders learned about Ruby Bridges and her challenges of being the first and only Black student at a previously whites-only grammar school in Louisiana. Ruby was just 6 years old on November 14, 1960, when she made her first courageous walk to school amid angry mobs shouting racial epithets and other hate-speech. Undaunted by the belligerent onlookers, Ruby continued to walk to school every day.
Ms. Carlino's pupils were impressed and inspired. When one asked whether there was a Ruby Bridges Day and the class learned there wasn't, they decided to do something about it. The students persuaded the South San Francisco Unified School District Board to establish a special day to recognize Ruby Bridges. Successive fifth grade classes persuaded the San Mateo County Board of Education, the South San Francisco City Council and the San Mateo County Board of Supervisors to also recognize Ruby Bridges.
This year the fifth-graders asked Senator Becker to champion their effort. He introduced Senate Resolution 59 to proclaim November 14 as Ruby Bridges Walk to School Day in our state. The Senate passed the measure with a unanimous, bipartisan vote on September 10. Because November 14 fell on a Sunday this year, California's first statewide Ruby Bridges Walk to School Day was celebrated today.
###
Gallery
Here are photos from today's walk to Martin Elementary School. News media seeking higher res versions of images may email leslie.guevarra@sen.ca.gov:
Photo 1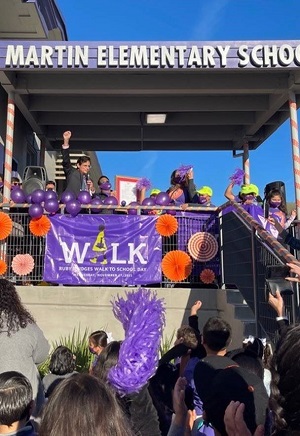 Senator Josh Becker, Martin Elementary School students, teachers, parents and other school supporters hail California's first Ruby Bridges Walk to School Day.
Photo 2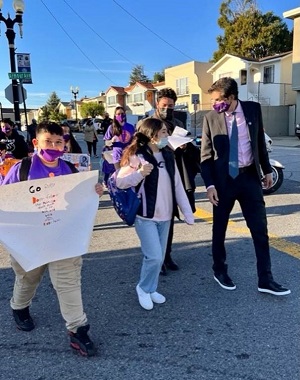 Students, Senator Josh Becker and other education advocates walk to Martin Elementary School to honor civil rights icon Ruby Bridges.
Photo 3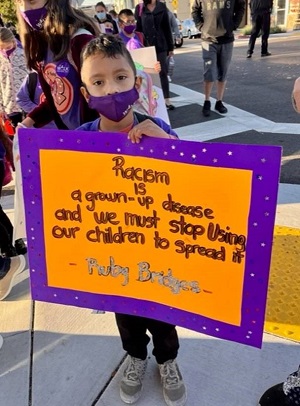 Martin Elementary School student showing his support for Ruby Bridges Walk to School Day.
Photo 4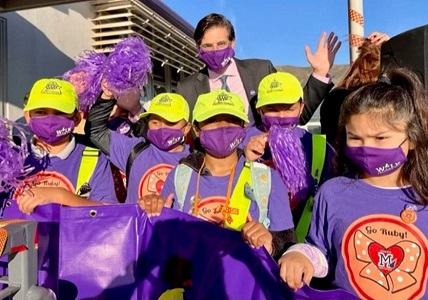 Students and Senator Josh Becker celebrate Ruby Bridges Walk to School Day
Photo 5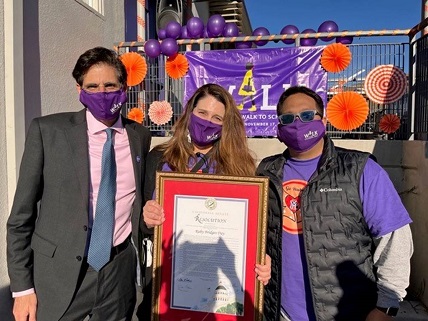 Senator Josh Becker, Martin Elementary School teacher Deborah Carlino and Principal Jonathan Covacha with the proclamation presented by the senator to declare Ruby Bridges Walk to School Day in California.
All images courtesy of Senator Becker and his office.
 
Video
*ADDED* Video of Senator Becker's Presentation of Proclamation:
https://twitter.com/SenJoshBecker/status/1461178522043510788?s=20
Video at ssfusd.org: How Ruby Bridges Day Went Statewide
More Resources
Text of Senate Resolution 59
Media Contact for Senator Becker: Leslie Guevarra, leslie.guevarra@sen.ca.gov, 415-298-3404,
Media Contact for South San Francisco Unified School District: Peter Feng, Public Information Officer, pfeng@ssfusd.org, 650-827-8493