The Climate Budget Items You Should Know About
Governor Newsom's recently released 2022-2023 budget proposal, the California Blueprint plan, allocates $22.5 billion in investments into climate solutions that can directly improve the lives of all Californians, especially those with the greatest needs. The Governor's budget and projections thus far for 2022 indicate we'll have the money for the 2022-23 budget to bring everyone into our transformation to clean energy.
In this Getting to Zero post, I share the Governor's climate budget proposals for which I'm most excited and which I believe will be critical in the coming year to meet our state emission reductions targets. The first three categories — EVs and public transportation, clean energy grid, and building electrification — include budget items that target the three largest emission sources in California. Two others — climate change adaptation and mitigation, and clean economy development — highlight policy areas that are essential to help prepare California for future impacts of climate change on the economy and everyday life.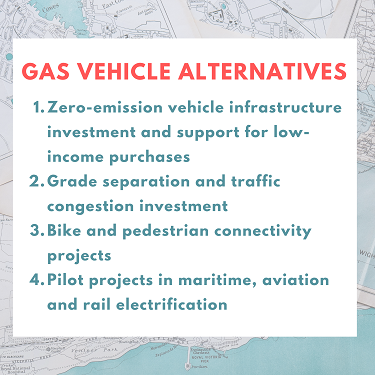 Alternatives to fossil-fuel vehicles. Transportation is the largest source of emissions in California, with more than half the transmissions emissions coming from passenger vehicles. I was glad to see the breadth of $6.1 billion of investments in non-gas vehicle movement modes, including investments in electric vehicles, rail and public transit projects, and grade separation projects, similar to the ones already occurring in Senate District 13. 
$6.1 billion for the transition to zero-emission vehicles over a 5-year period. The amounts allocated for personal EVs includes $256 million dollars for low-income individuals. In addition, $900 million is allocated to increase affordable ZEV infrastructure in low income neighborhoods
$750 million for bike-pedestrian-and-community connectivity projects
$500 million for grade separations for safety and to ease traffic congestion
$200 million of investments in pilot projects for high-emitting transportation sectors, such as maritime, aviation and rail
$1.2 billion for improvements to good movement infrastructure to improve supply chain efficiency through better data, which reduces emissions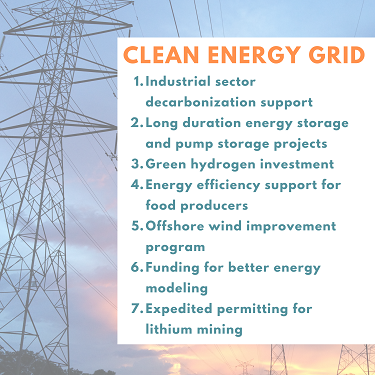 Clean energy grid. In order to transition to the clean energy requirement of SB 100, which requires 60% renewable electricity by 2030 and 100% carbon-free by 2045, California's grid needs continued investment in cutting-edge technology, reliability, and support in removing bureaucratic barriers from more clean energy procurement. The Governor's budget proposal this year includes funding for energy storage, green hydrogen, offshore wind, geothermal, lithium production, industrial decarbonization efforts, and more.
$380 million long duration storage to increase grid reliability
$240 million for a temperature management project to expand the capacity of pump storage at the Oroville Dam
$210 million for industrial sector decarbonization, with a focus on reducing critical pollutants in disadvantaged communities 
$100 million to increase the number of green hydrogen facilities
$85 million for grants to install energy efficiency and renewable tech at food producers
$45 million for Offshore Wind Energy Deployment Facility Improvement Program
$7 million to support improvements to energy modeling activities to improve state energy planning and policy development
Expedite and streamline permitting in Lithium Valley, which would allow for future potential increases in geothermal energy production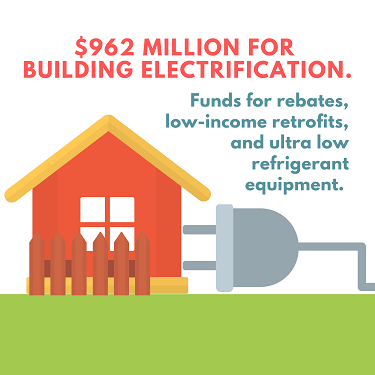 Building electrification. Residential and commercial building electrification have long been a priority in my legislative agenda and for many cities leading local electrification efforts. Several cities in Senate District 13 have adopted some of the most ambitious electrification reach codes or Climate Action Plans to reduce local carbon emissions — moves that placed them at the forefront of executing and implementing home and commercial building electrification. My first bill advancing building electrification on the state level, SB 68 which took effect this month, requires the California Energy Commission to analyze barriers to home electrification and EV charger installations, and to develop public guidance on electrification.
I was pleased to see the budget's allocation of $962 million toward home and commercial electrification with a focus on supporting low-income electrification, which can be more difficult for municipalities to support due to budget constraints.
$622 million for energy efficiency upgrades and electrification retrofits of homes and commercial buildings in low income areas
$300 million for rebates for electric heaters, water heaters, cooktops, and dryers
$40 million for ultra-low-GWP refrigerants to reduce the climate impacts of leaks of HFCs from air-conditioners and heat pumps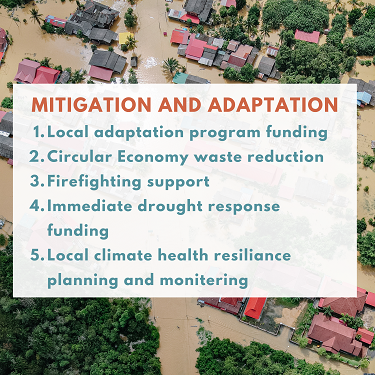 Climate change adaptation and mitigation. Senate District 13, similar to many other communities in California, is already experiencing measurable and costly consequences of climate change. And the estimates in the sixth IPCC report project the effects of climate change are only getting worse. The Governor's proposal includes many mitigation opportunities for state agencies and cities to help expand their mitigation and adaptation programs from fires, impacts on water supplies, and more.
$400 million for climate adaptation programs
$270 million to support Circular Economy waste reduction to be distributed over two years
$648 for fighting fires by supporting firefighters, including new helicopters and bulldozers, and $582 million for fire prevention through forest landscaping
$750 million for an immediate drought response for residents, farmers, and wildlife
$25 million of grants for local health jurisdictions to develop and bolster Climate and Health Resilience Plans
$30 million toward a GHG Reduction fund for local pollution monitoring in disadvantaged communities and $10 million to monitor climate health impacts and diseases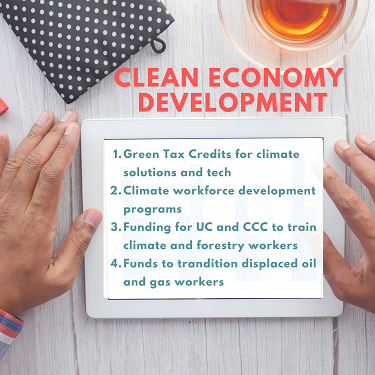 Climate economy development. California has proven over time that combating climate change and economic growth go hand-in-hand, when planned correctly. This is why budget investments in the clean economy are paramount to meeting our goals and to increasing the prosperity in the state by developing the climate workforce through college training programs, nurturing businesses which create technology for climate solutions, and supporting displaced oil and gas workers.
$1 billion of new 'Green Tax Credits.' Of this amount, $750 million is allocated for companies headquartered in California which are creating cutting-edge climate solutions, while the remaining $300 million remains for those companies which opt-in for grants to support the development of green energy tech, with the state getting a share of the profits later if the companies are successful. 
$500 million for climate-workforce development
$35 million General Fund for the UC system to create regional workforce development and training hubs for climate change work and $60 million for a Low Carbon Economy Workforce grant for workforce development which aligns with the CARB Scoping Plan
$30 million General Fund for California Community Colleges to educate and certify forestry professionals
$50 million to a fund for displaced oil and gas workers and $215 million over two years to support an oil and gas well capping initiative
Of course, the Governor's budget proposal is just the beginning of the process. My colleagues and I are going to compare the Governor's spending priorities to our own, and there are opportunities to make improvements.  For example, it is great to see the administration's support for building decarbonization, but we need to make sure that those dollars are being spent efficiently, leveraging private sector investment as much as possible, and that the investments directly improve the lives of low-income Californians.  With these big increases in the budget for climate policy and more than $3 billion coming in from cap & trade auctions, we need to truly bring everyone along through this energy transition.  
Further details about the Governor's proposed budget can be found at this link.