California Climate Wins in 2022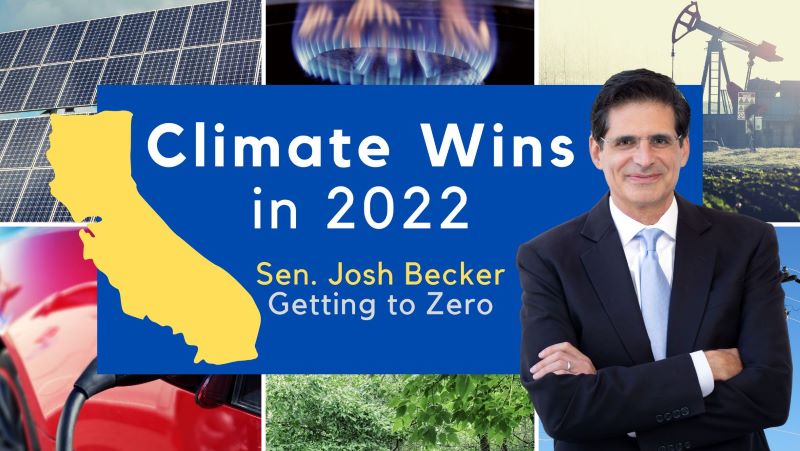 While we still have a long road ahead of us, 2022 saw a number of significant legislative victories in the battle against climate change in California.
A few landmark bills set new targets and tightened the state's overarching goals for reducing greenhouse gasses (GHG) and fossil fuel use. On top of this goal setting, the Legislature managed to garner bipartisan support for a variety of bills to ease the transition to a clean energy future. Finally, the Legislature and Governor backed up these policies by allocating an unprecedented amount of money in the state budget aimed at fighting climate change.
This year's victories — which both adapt to and mitigate California's carbon emissions — will serve as a springboard for accelerating our goal of "Getting to Zero" emissions. 
Setting goals on fighting climate change
California refined and set major new targets for reducing GHG emissions. 
Two bills established landmark legal requirements for carbon emissions. AB 1279 (Muratsuchi) creates a legally binding target to achieve net zero emissions by 2045 in all of California, with at least 85% coming from emissions reductions. My SB 1203, better known as "California Zero," requires the state to develop a plan for getting its buildings, vehicle fleet, and electricity usage to net zero GHG emissions by 2035. Given there are 24,000 state-owned buildings and structures, California's government can and should lead by example when it comes to transitioning to a clean energy future. Having all state agencies meet net zero first will help shape the market to make clean energy appliances cheaper for others and demonstrate transition planning can be done. 
Other notable new laws create new goals and improve carbon capture and sequestration: 
Finally, one important of the resolutions this year, SCR 53 (McGuire), declares climate change as an emergency and recognizes California's leadership on the issue. I am very proud of this year's victories and excited for their role in future climate action.
Great climate bills to help meet the climate goals
To help the state meet these overarching targets, many bills were enacted to help speed up the implementation of emissions reduction measures and achieve the just transition to a clean energy future that is so critical.
(a) The Clean Energy Transition. Planning for California's target of 100 percent renewable energy sales by 2045, a handful of bills passed this year will support the buildout, planning, and reliability of the energy transition.
(b) Building Electrification. 
(c) Open space conservation. Preserving and maintaining public lands is foundational to capturing carbon through vegetation and creating habitat for sensitive species, while serving important public health needs. Two bills from this year will make it easier for open space districts to govern and preserve critical open spaces and park districts. 
(d) Zero emission and electric vehicles (EV). California needs to significantly accelerate the EV market and improve access to EV chargers to meet its climate change goals. 
(e) Climate health and justice. As California transitions to net-zero emissions, it is important to do so while considering the equity and health of, and impact on, all Californians. The Legislature passed many important measures to improve the state's recycling and waste supply chains, and prevent the prolonged production of fossil fuels. 
The 2022 Climate Budget
The Legislature and Governor channeled an unprecedented amount of resources and funding toward the clean energy transition this year, much of which I wrote about in my "The Climate Budget Items You Should Know About" post.
In all, the Legislature and Governor allocated over $2 billion toward making the state's electricity grid more reliable and smoothing out the road for a clean energy transition. 
One state budget bill, AB 205 (Committee on Budget), provides money for energy resources during tight grid conditions for the near- and long-term. The trailer also created a streamlined process to allow the CEC to permit new, large renewable energy resources to help the state build clean faster. 
Finally, SB 846 (Dodd) extended the life of the Diablo Canyon nuclear power plant to ensure the grid remains reliable and flexible as California transitions to 100 percent renewable energy. 
Onward. The legislative victories this year will help to move California toward its carbon emission goals and will fight climate change. From protecting open space to deploying more EVs, approaching this fight from a variety of angles has been my priority this year in the Legislature, and these accomplishments demonstrate the state's commitment to reaching our emissions goals. As my team and I gear up to introduce more bills next year, these victories will serve as a springboard for more quickly "Getting to Zero."